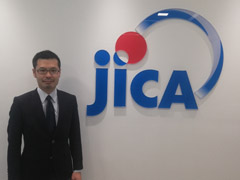 The Republic of Panama is located at the narrowest section between the North and South American continents, the Central American Isthmus. It has a population of 3.86 million with multiple races including indigenous people. The Panama Canal, which was returned from the United States on December 31, 2000, celebrated its centenary on August 15, 2014. The enhanced Panama Canal (3rd lane) inaugurated on June 26, 2017 makes neo-Panamax vessels possible to transit and is expected to play further important role in the world logistic and commerce connecting the Atlantic and the Pacific Oceans. In January 2014, Metro Line 1 started to operate in Panama City and the Line 2 and Line 3 development projects are also under execution. While Panama has achieved remarkable economic growth in recent years, there still remains a challenge against the economic disparity between the urban and rural areas.
JICA has been dedicating to the bilateral cooperation with Panama for more than fifty (50) years, starting from the invitation of four (4) Panamanian participants for agricultural related training program in Japan in 1963. Actually JICA is supporting to sustainable social and economic development of Panama, focusing upon the infrastructure development in urban area, the environmental conservation, and the human resource development to address to the economic disparity issue in and between urban and rural areas, mobilizing its Technical Cooperation, Co-knowledge sharing seminars, Volunteers, and Financial Cooperation.
The participatory watershed management projects in the Panama Canal watershed started from April 1994 as bilateral cooperation has now become to be the triangle cooperation program to share its achievement with other Latin American countries. The first authentic waste water treatment plant in Panama City, financed by the Japanese ODA Loan, has started to operate since May 2013, and is expected to contribute for environmental improvement of Panama City and Panama Bay. Also JICA is now supporting the efforts of the Government of Panama to develop the secure and reliable massive public transport system as Line 3 through the Japanese ODA Loan committed in April 2016.
JICA will continue to support the sustainable social and economic development of growing Panama and to work for enhancing the mutual cooperation between two countries.
We would appreciate your sincere understanding about JICA projects in Panama through this website.
Taku Ishimaru, Chief Representative
JICA Panama Office