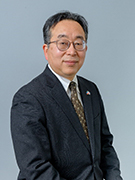 AZUKIZAWA Eigo
JICA Philippines Chief Representative
Mabuhay!
When I was assigned as Chief Representative in the Philippines in 2020, it was just the initial days of the pandemic. It turned out to be a busy year for everyone, as we are all determined to overcome the public health crisis the best we can.
I extend my appreciation to our partners, staff, and stakeholders in the JICA Philippine Office for your grit, resilience, and commitment to support international cooperation as we continue to strengthen our efforts against the pandemic. JICA has over 70 ongoing projects in the Philippines that hopefully will contribute in further building up the resiliency of people and communities in a post-COVID-19 future. Further, allow me to reiterate our priorities to keep working with the Philippines and the rest of ASEAN in promoting the rule of law, economic prosperity through quality infrastructure, connectivity, and regional peace and stability.
As a balikbayan, having first served in the Philippines from 2013 to 2015, I am pleased to see progress in our bilateral projects in building quality infrastructure, overcoming vulnerability in the most affected sectors, and promoting Mindanao peace and development. Let us continue our discussions and efforts to move our projects forward, which I believe will greatly contribute to the economic and social recovery of the country.
The Philippines is one of JICA's closest partners. In fact, Japan's Official Development Assistance (ODA) in the Philippines accounts for 39% or US$8.5 billion* of the latter's total ODA portfolio, a testament of our trusted partnership. As we will all certainly feel the effects of the pandemic for several years to come, JICA looks forward to building on our strong cooperation and confidence with our partner nations not only through quick and effective emergency response but also through comprehensive and enduring support. Let us continue to work in mutually beneficial ways, so together we can co-create a better future for the generation today and the next.
Together, we can come out stronger in a post-COVID world!
About the Chief Representative
AZUKIZAWA Eigo was Representative in the Japan Bank for International Cooperation (JBIC), Paris Office in 2004 and held key finance management posts in the Japan International Cooperation Agency (JICA) from 2008 to 2012. Prior to this, he was involved in development finance for 12 years at the Overseas Economic Cooperation Fund (OECF), Japan's loan aid implementing agency. A graduate of political science and economy in Waseda University, Azukizawa also supported policies and operations in JICA Tokyo Headquarters under the Office of the President in 2015, and as Director General of the Southeast Asia and Pacific Department in 2018.