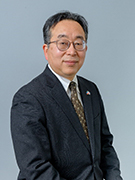 JICA Philippines Chief Representative Yoshio Wada
Economic changes all over the world have accelerated, creating both opportunities and challenges. As trusted development partner of the Philippines for many decades, the Japan International Cooperation Agency (JICA) aims to help Filipinos seize these opportunities, and contribute to inclusive economic growth that can benefit all.
As new JICA Chief Representative, it is my honor to serve in the Philippines located in one of the fastest growing regions in the world. Emerging and developing Asian countries are projected to grow at 6.5% in the next two years, and accounting for half of the world's economic growth.[1]
Thus, JICA welcomes the opportunity to contribute to countries in Asia such as the Philippines towards socio-economic infrastructure solutions that could help open up new opportunities. The Philippines' first modern underground mass transit system or Metro Manila Subway Project assisted by JICA, is symbolic of our sincere support to sustain economic growth, boost connectivity, and uplift the way of life of many Filipinos.
Likewise, we will continue to share the innovations and expertise of Japanese small and medium enterprises (SMEs) with the Philippines towards deeper collaboration and partnership between JICA and the Filipinos. Our people-to-people exchange through our Japanese volunteers and knowledge co-creation likewise aim to raise Philippine capabilities in addressing poverty challenges, and ensure that economic gains are accessible to all.
In all, the trusted partnership and friendship between JICA and the Philippines play an important role in coping with the pace of change that economic growth brings.
Thus, I look forward to engaging in discussions and working with our counterparts and partners in the Philippines so we can further work in partnership in navigating the changes in the future economy and seize its opportunities. Again, thank you for your trust and support to JICA throughout the years.
Note
[1] Data from International Monetary Fund Global Economic Outlook Report