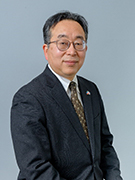 My appointment as Chief Representative of Japan International Cooperation Agency (JICA) Philippines Office in March 2022, came at a time when we face world-scale uncertainty and multiple challenges, such as COVID-19 pandemic and military actions by Russia in Ukraine. It is therefore both a great honor and a challenge to assume the position as we all strive to accomplish our common targets aimed at Quality Growth, Human Security and Regional Stability.
As we all know, COVID-19 has caused a massive health crisis, economic disruptions, and dramatic change of lives to many countries, including this lovely archipelagic country. The geopolitical tension and increasingly fragmented global economy have exacerbated the situation. In the Philippines, for example, the economic impact of COVID-19 includes the loss of lives of severely affected patients, impact to GDP growth, and unemployment.
It is in this context that I would like to highlight the importance of the role and significance of international cooperation in promoting solidarity. Japan and the Philippines' trusted relationship, which has been very long-standing for over six decades, is founded on mutual understanding and respect. While the Philippines has kept a strong foundation for economic growth even under the current circumstances, we recognize huge development needs to be jointly tackled, such as infrastructure development, regional stability/peace, climate change countermeasures, disaster risk reduction and management, and maritime cooperation among others. In addition, from our end, the Philippines remains a "strategic partner" of Japan. JICA is also extremely enthusiastic to further promote people-to-people exchange and human resource development so as to deepen mutual understanding in a more collaborative manner.
To achieve our common goals, JICA's priorities include resilient health sector development, robust economic recovery with job creation and improvement of quality of life, proactive infrastructure development for tomorrow's prosperity, comprehensive capacity development, appropriate disaster risk reduction and management using Japan-initiated Build Back Better concept, and sustainable private sector development and investments from Japan.
Japan had its share of unique challenges in the past, which include the Meiji restoration, World War II and the Great East Japan Earthquake, to name some. On the other hand, Japan also has special characteristics such as discipline, perfection and team work. Following these, JICA is absolutely keen to share Japan's experiences, expertise, tips and lessons with our beloved Filipino friends through JICA's international cooperation activities.
JICA is always with you -- thinking together, working together, and creating innovation together for a better future for both countries, and the region.
In a nutshell, I am confident that our strong partnership is and will be essential in overcoming difficult challenges, and that it is important now more than ever to continue working hand in hand.
Together, let's continue enhancing our close friendship and partnership, remain adaptable and agile, and embrace new ideas and innovation. I am extremely excited to work with all our stakeholders in the Philippines and would appreciate your understanding and support towards a sustainable, inclusive, and resilient society.
SAKAMOTO Takema
Chief Representative
JICA Philippines Office
About JICA Philippines' Chief Representative SAKAMOTO Takema:
Mr. SAKAMOTO Takema has held various leadership positions in the Japan International Cooperation Agency (JICA) for more than 30 years. He was the Chief Representative of JICA Iraq and India offices since 2011 and 2015 respectively. Prior to his appointment in the JICA Philippines Office, Mr. SAKAMOTO held strategic key positions at the JICA Headquarters in Tokyo, such as Director General for South Asia, Director General for MENA (Middle East and North Africa) and Europe, Group Leader for Transport Infrastructure and ICT, and Director for Media Division. He also demonstrated strong leadership on developing economic foundation and social development under the concepts of "Sustainable, Resilient and Inclusive Growth" and "No One Left Behind." Mr. SAKAMOTO was also a visiting professor in the University of Tsukuba, one of Japan's leading universities.