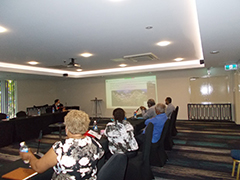 Participants who attended the 2nd Public consultation meeting at Heritage Park Hotel.
On February 22, 2022, the Ministry of Infrastructure Development (MID) and the JICA Study Team (JST) held the second and final public consultation meeting for the Project for Greater Honiara Transport Master Plan Study (GHTMPS) at the Heritage Park Hotel in Honiara City. The first public consultation meeting was held in January 2020.
More than 40 participants joined online, with a few fully vaccinated participants attending in person while following the government's COVID-19 policies. Participants included concerned government ministries and organizations such as the Ministry of Environment, Climate Change, Disaster Management and Meteorology (MECDM), other international donors and members of the Chamber of Commerce.
In GHTMPS, JST developed a transport master plan for the Greater Honiara Area (GHA), which is composed of Honiara City and the adjacent urban areas in Guadalcanal Province. The transport master plan is envisioned to contribute to the long-term development of transport infrastructure, especially roads and bridges, the convenience of citizens and promotion of economic activities in GHA.
The public consultation meeting was held to disseminate the outputs of GHTMPS and to get feedback from participants regarding the environmental and social considerations of the proposed priority projects. In the opening remarks, the Permanent Secretary for MID, Mr. Stephen Maesiola, thanked JICA for leading the study in coordination with MID and other relevant government agencies.
JST emphasized the importance of the alternative East-West Road and proposed new Harbor View Drive, which would connect White River to West Kola Ridge through Skyline. JST also recommended introducing new pavement technology of Inter-Locking Block Pavement (ILBP), whose effectiveness was successfully demonstrated in a pilot project on a road section around Point Cruz.
The transport master plan and the priority projects were well-received by the participants. In addition, participants highlighted the need for proper footpaths in GHA such as along the shoreline and between SINU campuses to address mobility needs and promote a healthier lifestyle for pedestrians and people with special needs. Mr. Maesiola also pointed out that commuters need to change their mentality of using designated bus bays instead of getting on or off anywhere. Improvement of public transport management is also one of the substantial issues and participants also raised issues regarding taxis in addition to the minibuses that GHTMPS mainly focused on.
GHTMPS commenced in 2019 and was set to finish end of 2020, however, it was delayed for more than a year as project activities were suspended due to the COVID-19 pandemic. JST has handed over the transport master plan to MID, who will work to realize the proposed priority projects in a timely manner.
By Andra Mijares and Ezmie Oge
Greater Honiara Transport Masterplan Study
(GHTMPS)