The Japan International Cooperation Agency (JICA) celebrates 25 years of friendship and cooperation with the people of Saint Lucia through the Japan Overseas Cooperation Volunteers (JOCV) program. The JOCV program is a system of dispatching Japanese volunteers overseas. This program was introduced to Saint Lucia in the year 1995, where 5 volunteers were assigned to the Ministry of Education. Since then, over 250 volunteers have been dispatched to Saint Lucia, serving in various capacities in communities across the island.
The JOCV work first hand with persons in the local community in homes, schools, community centers, government and non-governmental organizations. Volunteers contribute in a wide range of areas including agriculture, forestry, fisheries, education, health, and several other technical fields. Together with counterparts in the local organization in which they are dispatched, volunteers help build the capacity of the host organization and support projects and programs. They plan, collaborate and evaluate with their host organization and local staff.
One noteworthy volunteer initiative of this program was the partnership forged in 2015 with the Department of Fisheries and the Saint Lucia National Trust. The partnership with three Japanese Universities, namely the Hokkaido University, the Kagoshima University and the Tokyo University of Marine Science and Technology, engaged student volunteers in a yearly ongoing project, building on the works of their predecessors. Their project focused on Fisheries Management and Environmental Education. The research and activities of these students have contributed significantly to Saint Lucia's understanding of the invasive Sargassum Seaweed and sustainable environmental practices at the Makote Mangrove.
Though the COVID-19 pandemic has forced the program and physical anniversary celebrations to a standstill, JICA looks forward to welcoming back Japanese volunteers to the island with renewed vigor. JICA takes this time to thank the Government and the people of Saint Lucia for their continued support for the volunteer program and looks forward to a continued friendly relationship for many years to come.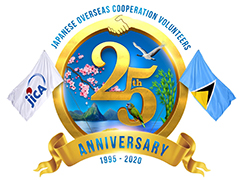 ABOUT JICA
The Japan International Cooperation Agency (JICA) is the primary Japanese governmental agency responsible for Japan's bilateral ODA (Official Development Assistance). It is chartered with assisting economic and social growth in developing countries, and the promotion of international cooperation. JICA Saint Lucia supplies technical expertise, training courses, (ODA loans), grants aid and a volunteer scheme (JOCV) to the people of Saint Lucia. The core areas for cooperation in Saint Lucia are Fisheries; Environment; and Disaster Risk Reduction. The JICA Saint Lucia Office also covers Antigua and Barbuda, Barbados, Commonwealth of Dominca, Grenada, Guyana, Saint Vincent & Grenadines, Saint Kitts Nevis, Suriname, and Trinidad & Tobago.
PRESS CONTACT
Erland J. George (Mr.)
Training and Public Relations Officer
JICA Saint Lucia Office
George-Erland@jica.go.jp
(758) 453-6032/33 or 485-1725 Fax: (1-758) 453-6036
Facebook: https://www.facebook.com/jicasaintluciaoffice/ (external link)