The Hunter J. Francois Library of the Sir Arthur Lewis Community College (SALCC), celebrated National Library Week from April 3-9, under the theme "Connect with Your Library". The theme promotes the idea that libraries provide opportunities for persons to connect with each other, utilize technology, access information, share ideas, and explore the vast array of information available.
The theme is an explicit call to action; an invitation for everyone to join, visit, and support their libraries. In joining this call, on 13th May 2022, during the culmination ceremony of the week of activities, Japan International Cooperation Agency (JICA) Saint Lucia Office made a book donation of 32 books on a cross section of literature ranging from Japanese history and development to Japanese culture, fiction and wellbeing. Mr. Cletus Springer, Chair of the SALCC Board, expressed his sincere gratitude and deep appreciation for the donation of the books by JICA. SALCC Librarian, Kathy Birch McDiarmed, noted that resources such as this donation further expands the scope of the offerings of the Library and are essential in its service delivery to enhance students' academic success.
Mr. Hiroyasu Tonokawa, Chief Representative of JICA Saint Lucia addressed attendees of the work of JICA in Saint Lucia and his excitement about JICA's collaborations with the SALCC. JICA Saint Lucia has a made a commitment to support institutions which foster educational development in Saint Lucia and looks forward to a continued and mutually beneficial relationship with the SALCC.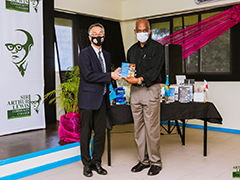 Hiroyasu Tonokawa, Chief Representative JICA Saint Lucia (L), Cletus Springer, Chair of the SALCC Board (R)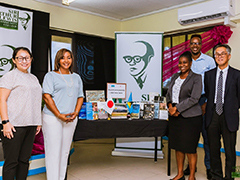 (L-R) Hitomi Urushiata, Project Formulation Advisor JICA Saint Lucia; Kathy Birch McDiarmed, SALCC Librarian; Merle St. Clair, Vice Principal SALCC; Erland George, Public Relations Officer JICA Saint Lucia; Hiroyasu Tonokawa, Chief Representative, JICA Saint Lucia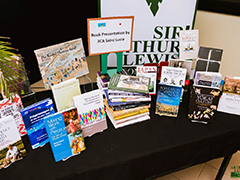 A few of the books donated by JICA on display
ABOUT JICA
The Japan International Cooperation Agency (JICA) is the primary Japanese governmental agency responsible for Japan's bilateral ODA (Official Development Assistance). It is chartered with assisting economic and social growth in developing countries, and the promotion of international cooperation. JICA Saint Lucia supplies technical expertise, training courses, (ODA loans), grants aid and a volunteer scheme (JOCV) to the people of Saint Lucia. The core areas for cooperation in Saint Lucia are Fisheries; Environment; and Disaster Risk Reduction. The JICA Saint Lucia Office also covers Antigua and Barbuda, Barbados, Commonwealth of Dominica, Grenada, Guyana, Saint Vincent & Grenadines, Saint Kitts Nevis, Suriname, and Trinidad & Tobago.
PRESS CONTACT
Erland J. George (Mr.)
Training and Public Relations Officer
JICA Saint Lucia Office
George-Erland@jica.go.jp
(758) 453-6032/33 or 485-1725 Fax: (1-758) 453-6036
Facebook:
https://www.facebook.com/jicasaintluciaoffice/ (external link)