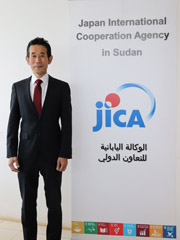 Dear all,
Nice to meet you!
I was assigned as Chief Representative of JICA Sudan Office on February 2021.
Learning from history, Sudan has long been a center of the world connecting Africa and Middle East, as the name Sudan represents. The history of Sudan dates back at least more than 5000 years ago. Rich and abundant soils cherished by the River Nile also enhances the attractiveness of Sudan. But the attractiveness of Sudan is not only limited to the Nile River itself, diversified lands and people also make this country more attractive. I am very much pleased to stay here and learn from the people of Sudan.
Sudan is now in the midst of reforms and development. Sudan's Listing of State Sponsors of Terrorism has been lifted, and the international society is on the track of supporting Sudan. JICA is among those members. We would like to support its efforts to realize better future.
As a Japanese citizen, I could not forget about heart-felt support to Japan by the people of Sudan. 10 years ago, Japan experienced Great Eastern Japan Earthquake and we lost more than 15,000 lives. We stood at a loss and felt helpless and isolated. But we were not alone. People in the world supported us. Sudan is among those countries. We have received warm message and donation from the people of Sudan. This was the year 2011, when Sudan struggled with South Sudan's independence. I would never forget such warm-hearted supports from Sudan even though Sudan was also in a difficult situation.
JICA is bilateral government agency conducting development cooperation. We are strongly connected with Japanese society. We are very happy to share Japan's own lessons and experiences on, such as reconstruction after World War 2 & Great Earthquake and development afterward, with our respectful partner, Sudan.
Here in Sudan, we, JICA, have a long history of cooperation with the people of Sudan, but we are not satisfied with current situation. I believe we could deepen our cooperation and work together to bring bright future to this country.
With rich soils and diversified culture, Sudan has a lot of potentials for realizing prosperity and happiness. I am very much excited to work with the people of Sudan and pursue peace, prosperity and happiness by realizing more harmonized and more inclusive society.
Let's work together and build our future!
SAKANE Koji, Chief Representative
JICA Sudan Office