Participants who have completed master's degree courses under the Japanese Initiative for the future of Syrian Refugees (JISR) Program have carved a career for themselves. This time, we would like to introduce the current situation and future goal of Mr. Iskandar Salama who obtained master's degree in 2020.
As a bridge between Japan and Syria
While currently involved in various projects as Chief Technology Officer at BonZuttner Co., Ltd., Mr. Salama is conducting research on AI as a Ph.D. student.
One of the projects conducted by BonZuttner is offshore system development for the matching of Japanese IT companies seeking suitable human resources with overseas engineers looking for employment. At BonZuttner, Syrian IT engineers are actively involved in so-called "laboratory-type development" projects where engineers are proceeding with the planned work by means of on-line consultations with the client's development team. For these projects, Mr. Salama is actively seeking to match Syrian engineers and Japanese companies to provide employment opportunities for Syrian people whose lives have been hard under difficult circumstances. Even though he only spent less than 3 years in Japan, he has become the embodiment of the JISR Program "a bridge between Japan and Syria" through his utilization of his technical IT prowess.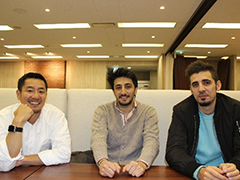 BonZuttner board members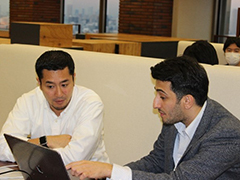 Meeting with the CEO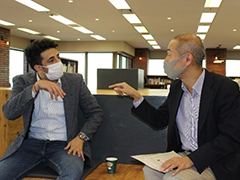 Interviewed by the press
New goal found in Japan
Prior to his arrival in Japan in 2018, Mr. Salama spent some time in Lebanon. Before that, while living in Syria, he studied computer science and programming which developed his strong interest in AI. He was very interested in the highly advanced AI technology and unique culture of Japan and it made him to choose Japan as a study destination. After arriving in Japan, he devoted himself to the study of AI for two years on a master's degree course.
Besides his study, he got various opportunities to enjoy and learn uniqueness of Japan. He has visited many Shinto shrines and Buddhist temples, collecting their stamps as part of his enjoyment of Japanese tradition. He has also visited Hiroshima on an organized peace study trip to learn about Japan's post-war reconstruction. Because of the situation in his own country which has been struggling with internal conflict for many years, this visit motivated him to explore the future reconstruction of Syria.
At the beginning of life in Japan, Mr. Salama thought to seek employment after completing his master's degree course. However, he has subsequently decided on the path of working while simultaneously taking Doctoral course because he can make a practical contribution to society while continuing his research on AI to deepen his knowledge. He is developing his Masters' research in the Doctoral course and now engaging on voice conversion technologies based on machine learning and deep-learning. Although his work commitment is currently heavier than his research, he is hoping to achieve a good balance between work and research gradually.
JISR Program participants considering post-program employment in Japan may have internship opportunity while studying for a master's degree. In this context, Mr. Salama experienced an internship at BonZuttner, the company for which he currently works, and he was motivated to join because its corporate vision coincided with his own goal "to contribute to the quality of life and education of those who need support through business".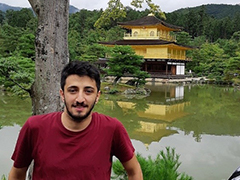 At Kinkaku-ji in Kyoto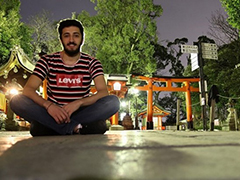 Visiting Fushimi-Inari Shrine of 10,000 gates in Kyoto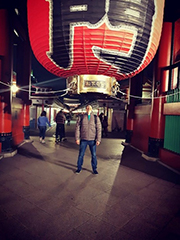 Discovering what is inside Senso-ji Temple in Asakusa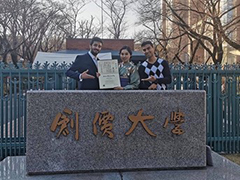 Graduating the University
What lies beyond his work and research in Japan
Among the various projects the BonZuttner deals with, Mr. Salama mainly acts as a front desk for Syrian engineers. At this stage, Japanese staffs deal with Japanese clients as his Japanese ability still needs to be sophisticated enough to meet the business level. With his wide and local network in Syria as well as Lebanon, he is confident to find excellent/suitable Syrian engineers for the further successful project. He told us that even though the targets for matching are limited to Syrian engineers at present, he hopes to widen the scope to the entire Middle East in the near future.
Also, as an executive officer, he is in a position of guiding other staff and making important decisions for the company. Thus, not only working on the development for the implementation of AI technology but also he is eager to learn business management for the further development of the company.
At the end of the interview, he said his determination, "I would like to provide educational opportunities for people in need through various efforts in the coming years so that those who acquired mathematical knowledge and IT technologies can find suitable employment. At some time in the future, I would like to return to Syria to work at an educational institution to improve the quality of life and education for Syrian people with the ultimate goal of achieving of the SDGs (Sustainable Development Goals)".
We sincerely hope that his purposeful life will flourish as he energetically conducts his work while continues his research at a graduate school with a clear goal for the future.