Agricultural Statistics and Economic Analysis Development in the Kingdom of Thailand (ASEAD)
Improving the quality of agricultural statistics data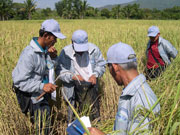 ASEAD has been aiming at improving the quality of agricultural statistics as well as analysis of economic data in Thailand.
Accurate and timely data will better serve the government and the private sectors both in Thailand and Asian countries.
ASEAD is a joint project by Office of Agricultural Economics, Ministry of Agriculture and Cooperatives, and JICA.
Please click here to get more information
The Project on Technical Strengthening of National Institute of Metrology (Thailand) Phase 2 (NIMT II)
Strengthening the national measurement system in Thailand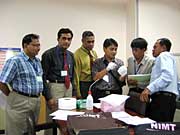 This project focuses on establishing and managing National Measurement Standards with Internationally recognized level of accuracy. The Thai government is seeking to realize appropriate National Measurement Standards in order to assist the nation's export industries.
This project is under collaboration between JBIC and JICA. The new building and the equipment were supported by ODA Loans of the Government of Japan and the technical transfer on human resources is conducted by JICA.
Please click here to get more information
The Automotive Human Resource Development Project (AHRDP)
Developing human resources in automotive supporting industry under cooperation between the public and private sectors
(1) Term of Cooperation

2006.12.1~2011.3.31

(2) Implementing Organization in Thailand

Thailand Automotive Institute, Ministry of Industry
Bureau of Supporting Industry Development, Ministry of Industry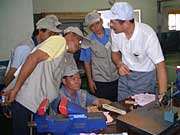 Japanese experts who are dispatched from well-known and large Japanese companies teach Thai people their practical skills, knowledge and know-how in the automotive field to develop human resources for the sustainable economic growth in Thailand.
This project is one of the technical cooperation categories in the Japan Thailand Economic Partnership Agreement (JTEPA), so not only JICA, but also Japan External Trade Organization (JETRO), The Association for Overseas Technical Scholarship (AOTS) and Japanese private companies are jointly conducting this project.
The Project on Community Leader Development in Agricultural Cooperatives (Agri-co)
Empowering group leaders in local areas in cooperation with agricultural cooperatives and CPD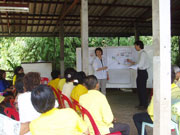 Several group leaders, agricultural cooperative members, and CPD officers in each province join our trainings three to four times a year. The trainees learn Marketing, Product Development, Better Living Promotion, Production Center Formation and Management, Financial Management, and Human Resource Development. JICA dispatches experts to Thailand and try to make contributions to trainees by sharing their knowledge and experience. Furthermore, 23 trainees are selected to go to Japan each year in order to get a special training for a month. They are expected to be resource persons for this project after they finish the special training.
Tax Compliance Enhancement
Dealing with global economic change
Since overcoming the currency crisis of 1997, the effects of increasing globalization on investment and trade have been experienced by Thailand. Consequently, the Revenue Department is facing difficulties handling increasingly complex international transactions, such as new financial instruments and e-commerce.
To cope with these global changes, JICA conducts personnel training for the staff of Revenue Department.
Technical Cooperation Project for Capacity Development of Electrical and Electronics Institute of Thailand for the Conformity Assessment (EEI)
Enhancing capacity development to promote external trade in electrical and electronics products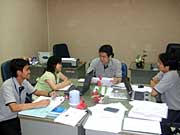 This project began recently and it aims at meeting the high standard ofconformity assessment, so that Thailand will be able to export good products more cheaply and more quickly. To make this project succeed, good relationships with Japanese private companies in Thailand are very important.