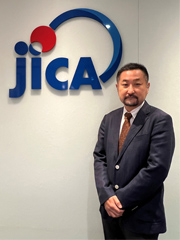 Thailand is an upper middle-income country, and a key country geopolitically and economically in the Greater Mekong Sub-regions as well as in Asia. Nowadays, Thailand provides assistance to its neighbor countries and other developing nations through Thailand International Cooperation Agency (TICA) and the Neighbouring Countries Economic Development Cooperation Agency (NEDA). Therefore, JICA's approach toward Thailand has to be differentiated from that toward other developing countries.
What role should JICA play in Thailand?
At the bilateral level, JICA has had a long history of cooperation in Thailand since the 1960s, and has developed human and organizational networks with Thai people. Although I came to this country recently, I was impressed by the warm welcome and politeness shown to me by Thai people whom I met. One good example of JICA's cooperation is King Mongkut's University of Technology Ladkrabang (KMITL), where JICA has cooperated for more than 40 years. Other well-known examples include large-scale infrastructure constructed with JICA's support, such as 15 bridges over the Chao Phraya River in Bangkok and vicinity, Suvarnnabhumi International Airport, and urban mass transit systems in Bangkok. They have become indispensable for the daily life and economic activities of Thai people today, and have contributed greatly to the quality growth that JICA aims at now.
At the global level, JICA and Thailand can work together to address global issues, especially those under the Sustainable Development Goals (SDGs). Adopted at the UN Sustainable Development Summit in September 2015, the SDGs consists of 17 global goals to address a wide range of complex issues closely related to each other. JICA's mission "Human Security" is well-aligned with SDG's "no one is left behind" concept. Thailand, at the same time, is working to achieve the SDGs by integrating them with the Sufficiency Economy Philosophy (SEP) in the long-term and medium-term national policy framework. Nevertheless, there are a number of critical challenges to be addressed collectively, such as the issue of income disparity, where Thailand is ranked as the world's largest income gap country according to the statistics recently released by a research organization*. In order to solve these problems, all the stakeholders including universities, research institutes, private companies and NGOs, together with public organizations, donors and international organizations, must collaborate and introduce advanced technology and innovative measures.
In recent years, JICA has been making efforts to enhance aid effectiveness by introducing various cooperation tools and modalities under Japanese Official Development Assistance (ODA.) One of these is the Public-Private Partnership Scheme, where JICA cooperates with the Japanese private sector, not only to deliver their advanced technology and innovation to developing countries, but also to support those companies in their overseas expansion. At present, thousands of Japanese companies are operating in Thailand, and JICA hopes to leverage their expertise to solve complicated and difficult problems that Thailand is facing.
In addition, Thailand is considered an important partner country with Japan in solving common issues, with a number of technical cooperation projects being implemented, utilizing experience and lessons learnt from Japan. An issue that symbolizes both countries is the increasing number of elderly citizens. Thailand is expected to shift from "aging society" where the ratio of elderly people is more than 7% to "aged society" which means more than 14%. Other globally significant issues such as climate change and formation of environmentally-friendly and low carbon society are also the focus of several science and technology research partnership projects between leading universities and research institutes in Japan and Thailand. It is evident that Thailand is a country that can work together as a partner of Japan to find solutions to those problems, and I believe that Thai people also hope for such a relationship with Japan.
Finally, while we cooperate to ensure that every Thai person can live a full and dignified life by their own choice, JICA will work together with Thailand as a development partner in order to contribute to global development.
I always welcome your opinions and suggestions.
Katsura Miyazaki
Chief Representative
JICA Thailand Office
* Credit Suisse Global Wealth Databook 2018 P.153