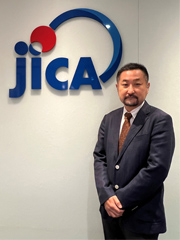 My personal connection with Thailand goes back to the late 1980s.
I was a student visiting the country, and, while fascinated by the Land of Smiles, I was struck by the fact that the nominal GDP per capita in Thailand was only about US$1,000. I couldn't imagine that the country would soon be entering an era of remarkable economic growth.
Japan's Official Development Assistance to Thailand began in 1954, with the acceptance of 21 Thai trainees in Japan. Since then, this cooperation has been fostered for more than 60 years, covering a wide range of sectors in different modalities, including technical cooperation represented by King Mongkut's Institute of Technology Lat Krabang, and dispatch of volunteers. Financial cooperation has been utilized in major infrastructure development such as Eastern Seaboard Development, several bridges crossing the Chao Phraya River, Suvarnnabhumi International Airport, and mass transit system development. These cooperation projects have contributed to not only improving the quality of Thai people's lives, but also deepening the ties between Thailand with Japan.
Today, Thailand has become an upper middle-income country, where its poverty rate has improved significantly. I can feel Thailand's achievement of economic development while looking at Bangkok skyscrapers.
Accordingly, I believe there are three major issues that JICA should address in the future.
The first is to promote sustainable economic development, taking advantage of Thailand's uniqueness in regional connectivity and innovation, given the geopolitical and economic importance of Thailand in the Mekong region and Asia.
The second is to create a more inclusive and resilient society by appropriately responding to environmental conservation issues, climate change, disaster management, economic disparities and an aging society.
The last is to respond to this latest COVID-19. Although Thailand has succeeded in containing the virus so far, it has had a great impact on both the health care system and economic activities, and therefore we urgently need to build a co-existing/post-COVID-19 society.
All of these efforts are important to contribute to ensuring human security and achieving high-quality growth. Although developed countries like Japan do not have ready-made remedies for any country, I would like to find appropriate solutions by working with the Thai Government, as Japan's partner of triangular cooperation, sharing knowledge and experience with all relevant stakeholders, through a mutual cooperation approach.
I would be grateful if you could give us your opinions and suggestions.
I will continue to make efforts so that the smiles of "Thailand, the land of smiles" will be passed down to the next generation and become even richer and healthier. We look forward to working with you.
November 2020
MORITA Takahiro
Chief Representative, JICA Thailand Office