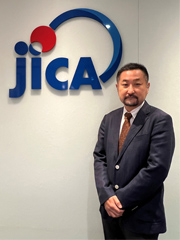 JICA's relationship with Thailand goes back a long way. We began cooperation activities in this country in the 1960s, when Thailand was an agricultural economy, rice was the dominant export, and industrial activity was just beginning. National infrastructure was basic, Bangkok was a relatively small, low-rise provincial town built on canals, and large parts of the population lived below the poverty line.
In 2012, Thailand's nominal GDP rose to US$366 billion, which ranked as 32nd in the world, and nominal per capita GDP reached US$5,600 (per capita GNI : US$4,440). Hence, the World Bank now defines Thailand as an Upper Middle Income country. Thailand first attained this classification in 1996, before the Asian Monetary Crisis stripped it away, and has been steadily recovering toward the Upper Middle Income level since the early 2000's. Clearly, Thailand should now be described as a middle-advanced country, or a newly industrializing country, as it is rapidly graduating from its former status of developing country.
In the late 1990's, Thailand overcame the Asian Monetary Crisis and went on to enjoy smooth economic growth through the early 2000's. Notwithstanding the ongoing political instability since 2006, the Global Financial Crisis of 2008 following the fall of Lehman Brothers, and the floods of 2011, this growth has continued, and 2012 saw a growth rate of 6.4%.
So, given this amazing transition, is it possible that Thailand should no longer be a target for conventional JICA assistance? Even though Thailand will soon graduate from the status of developing country (and JICA recipient), I believe that JICA still has work to do here. JICA has a continuing role in this country, although our role should be different from that in other non-recipient countries where JICA has terminated its activities after they graduated from the status of developing countries. We need to change both the focus and the content of JICA's cooperation activities in Thailand because of two important perspectives.
The first perspective is the geographic and economic importance of Thailand in the Greater Mekong Sub-region, whose population is over 200 million. Thailand is located in the center of this region, surrounded by Cambodia, Laos, Myanmar, and Vietnam, and there is simply no way to execute any economic development strategies for this region without recognizing the connectivity between the Thai economy and its neighbors. There is already a strong Japanese commercial presence in Thailand, with more than 50,000 Japanese residents supporting local outposts of several thousand Japanese companies, and these Japanese companies are poised to take very important roles in the region's economic development. In Myanmar, where we can expect to see expanded investment and accelerated economic development because of the flowering of democracy, it is essential to exploit the potential for industrial development by involving Japanese companies in Thailand. Similarly, it is obviously important for Thailand to improve its connectivity with its neighbors and thus strengthen the economic development of this region in order to maximize Thailand's own economic growth. Therefore, it is self-evident that JICA should now regard Thailand as its strong and reliable partner for the development of GMS. Accordingly, JICA will collaborate with Thai organizations and people in order to contribute to sustainable development in this region.
JICA has developed many close relationships with Thai people and organizations and has accumulated vast knowledge of this country through our long history of cooperation since the 1960's. That knowledge and those relationships are surely important assets to be used for further activities. Some organizations which have been strengthened by Japanese ODA programs, including King Mongkut's Institute of Technology, Lad Krabang (KMITL) or the National Institute of Metrology (NIMT), could also be regarded in themselves as outcomes or assets of JICA's cooperation in Thailand. In addition, Thailand has already started technical and capital cooperation with other developing countries through the Thai International Cooperation Agency (TICA) and the Neighboring Countries Economic Development Agency (NEDA). We would like to collaborate with TICA and NEDA to work in CLMV and other developing countries, making effective use of these assets.
Another important perspective for JICA's ongoing activities in Thailand is the different issues now faced by Thailand as an Upper Middle Income Country, as it rapidly overtakes its neighbors in its social qualitative transition to a matured society. One of these issues is aging; in fact, the population of Thailand is aging faster than that of Japan. The percentage of the population aged over 65 has been higher than 7% since 2001 and is anticipated to exceed 14% in 2023. At the same time, the birth rate has been dramatically declining, from 4.0 in the 1970's to 1.6 today, similar to many developed countries. However, a social welfare system capable of dealing with rapid aging and a falling birth rate hasn't yet been established in Thailand. Japan has extensive experience with these issues, and I think that JICA is in a position to assist in establishing an appropriate social welfare system in Thailand. In addition to aging, we would also like to support Thailand in tackling other contemporary issues, such as human trafficking, food safety, and the challenge of creating a sophisticated, environmentally friendly, and sustainable society. I think the lessons and knowledge to be gained through JICA's cooperation with Thailand's newly emerging issues will be very useful to other developing countries that will certainly face similar issues in the future.
In conclusion, although the nature of JICA's cooperation with Thailand is changing, the commitment behind it remains constant. We look forward to continuing collaboration with Thailand, not as a recipient country for assistance but as a true partner in the sustainable development of the region beyond Thailand.
Shuichi Ikeda
Chief Representative, JICA Thailand Office
June 2013