[With regards to the 40th anniversary of JICA Overseas Cooperation Volunteers in Thailand]
Name: Makoto II
Group of dispatch: 2018-2
Period of assignment: 25 September 2018 - 2 August 2020 / 22 June 2021 - 17 December 2021
Assignment place: Princess Chulabhorn Science High School Phitsanulok
Field: Computer Technology
Title: Towards the 40th anniversary of JICA Overseas Cooperation Volunteers in Thailand "Reassignment while remembering a few years ago"
Since October 2018, I have been dispatched as an ICT teacher to a middle and high integrated science school in Phitsanulok Province; Princess Chulabhorn Science High School. At that time, my activities were various, such as teaching in programming classes, supporting student projects, and planning and managing programming events in cooperation with JICA volunteers under the same field who were dispatched to affiliated schools. And now (September 2021), I am re-dispatched to the school as a short-term volunteer.
The most impressive activity at that time was club activity to learn programming through basic game development, which was held about 2 hours every week after school classes were over. It was a very worthwhile activity, as the students actively came to study as an extracurricular class. I was doing it until it got dark, so it was only the PC room with electricity on, under the condition that a lot of insects were flying, I forgot about the time and taught in that room.
What impressed me about Thai people at the school, strangely, rather than from activities of mine, it was because of marathon events which is my hobby. One day, I was invited to participate in a marathon event held in the city I was assigned to, and as a result of participating, I was able to win the championship, leaving behind Thai participants. Since it was a tournament with many colleagues participating, it is a good memory that the usual greeting changed from "Did you eat?" to "Did you run today?"
Finally, I would like to thank you for the opportunity to be re-dispatched at the timing of the 40th anniversary of JICA volunteer programs in Thailand, and I would like to continue my activities to pass the relay baton to the next step.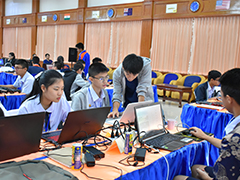 Game programming event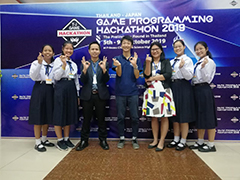 with my colleagues and students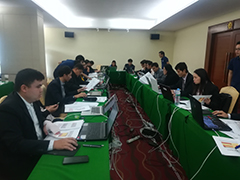 Teacher's workshop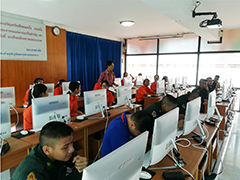 my classroom in general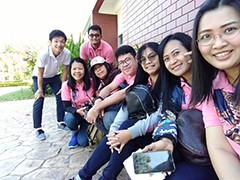 With colleagues at the school's field trip
Impression on JICA Volunteer
The dispatch of JICA volunteer, Mr. Ii Makoto (volunteer in the field of Computer Technology), to Princess Chulabhorn Science High School (PCSHS) Phitsanulok, has been a good opportunity for teachers and students to experience the culture and various knowledge from the volunteer. Not long before Mr. Ii Makoto's dispatch, PCSHS Phitsanulok opened a Unity Club (Unity is a video game engine platform) to encourage students to learn how to develop computer games. With cooperation between teachers, students and the JICA volunteer, PCSHS Phitsanulok participated in the Thailand-Japan Game Programming Hackathon event which was held in cooperation with JICA volunteers under the same field who were dispatched to affiliated schools, a competition to create Unity-based computer games by the end of the event. This volunteer also brought in their experiences to help teach students, such as in Python programming classes, and also became a project mentor for students. PCSHS Phitsanulok are very impressed with the JICA volunteer program.
Mr. Puthaporn In-Orn
Computer teacher
Princess Chulabhorn Science High School Phitsanulok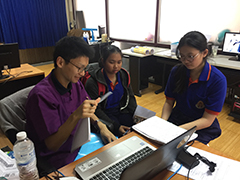 Activity of the volunteer