[With regards to the 40th anniversary of JICA Overseas Cooperation Volunteers in Thailand]
Name: Toshiyuki OKUI
Period of assignment and group of dispatch:
1) 5 August 1987 - 4 August 1989 (1987-1)
2) 1 September 1989 - 31 August 1990 (1989-9)
Assignment place:
1) Sukhothai Technical College
2) Department of Technical and Economic Cooperation (DTEC); current TICA
Field: Computer Technology
Title: Towards the 40th anniversary of JICA Overseas Cooperation Volunteers in Thailand "Thai boss who raised a young man who did not understand anything"
"I will go back to Japan, I don't want to be in Thailand anymore!" One day, about a year after I arrived, I said so to my boss and left the office. It was because I was upset that a job schedule that I thought I had agreed with the organization wasn't progressing at all. Of course, there were also many things that happened before that.
Even though I thought that I would try to work harder and harder, the staff at the organization didn't work as I expected. It was around that time when my stress was at its peak. At first I was upset with my boss, but after I calmed down, I became more and more upset and shameful with myself. When I asked myself why I came to Thailand, my tears were falling down.
However, when I was preparing to return to Japan, my boss came to my home with a smile and asked me, "Well, let's have a meal together".
"What are you saying in this situation, I won't go" I refused, but as I was invited many times, I changed my mind and thought that at least I could have a meal with him for the last time. While eating with him, my boss apologized, "I'm sorry for my lack of power."
He told me that there are various organizational circumstances. Then, he said, "It may not be as planned, but I will support you strongly, can we try our best together?" He created a "reason" for me to reverse the previous words "I'm going home." Since then, I have been involved with Thailand for more than 30 years. I have been blessed with many friends and worked on various projects with Thai people. Currently, I am involved in Thailand as an NGO (NOGEZAKA-GLOCAL) that I established. I think the origin of that activity was the kindness of many Thai people, especially including my boss at that time.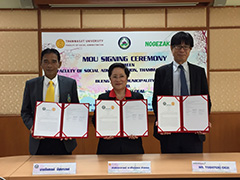 MOU signing ceremony between Thammasat University and Bueng Yhito municipality and NOGEZAKA-GLOCAL on Elderly Care (2019.7.16)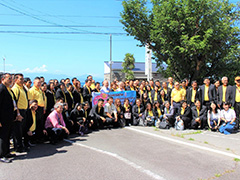 Elderly care training conducted in Japan for Thai local governments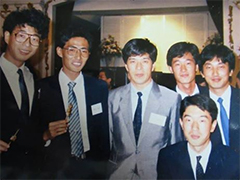 With JICA volunteers members in 1988 (Mr. Okui is on the left of picture)