Bangkok, 17th May 2023: Japan International Cooperation Agency (JICA), IUCN (International Union for Conservation of Nature) (external link) and Toyota Daihatsu Engineering & Manufacturing (TDEM) are presenting a joint exhibition at the Climate Solutions Fair, held as a part of the 79th session of the Economic and Social Commission for Asia and the Pacific (ESCAP) (external link) between 15th and 19th May 2023. The three organisations, showcasing their work at the Japan booth, aim to promote how their partnerships and projects are contributing to climate action and the conservation of nature and biodiversity.
JICA's booth explains how JICA has implemented cooperation projects contributing to climate action in Thailand and the Asia Pacific region. In Thailand, JICA has undertaken a project on the Bangkok Master Plan on Climate Change, which aims mainly to enhance the capacity of the Bangkok Metropolitan Administration (BMA) in addressing climate change. Toyota and IUCN are presenting how the two have worked together since 2016 on the IUCN Red List of Threated Species along with a business platform in Thailand.
On 15th May, the booth welcomed Mr Akimoto Masatoshi, Parliamentary Vice-Minister for Foreign Affairs in the Government of Japan. He visited Bangkok, Thailand, to participate in the plenary session of the ESCAP Commission.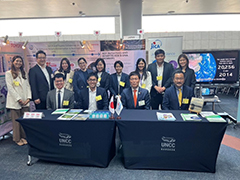 Mr Akimoto Masatoshi, Parliamentary Vice-Minister for Foreign Affairs, Government of Japan,
visited the joint exhibition on 15th May (second from the front right)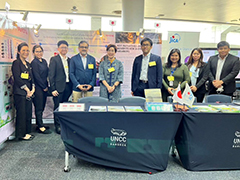 Ms Thanyaporn Krichtitayawuth, UN Global Compact Network Thailand,
visited the joint exhibition on 17th May (middle)
Mr Suzuki Kazuya, Chief Representative of JICA Thailand Office noted that "JICA is committed to providing support for climate action as it is one of the significant global issues nowadays. We, at JICA, will tackle such development issues by mobilizing our knowledge and expertise through collaboration with our partners across the public and private sectors."
Dr Dindo Campilan, IUCN Regional Director for Asia and Hub Director for Oceania, stated that "IUCN's longstanding partnership with Toyota - globally and here in Thailand - serves as a noteworthy example of the private business sector's strategic role in addressing biodiversity, climate and sustainable development agendas. We anticipate that this joint pavilion, in collaboration with Toyota, JICA, and the Embassy of Japan in Thailand, will create momentum for further collaboration on biodiversity and nature conservation in the region."
Mr Pras Ganesh, TDEM Executive Vice President commented that "Toyota aims to achieve Carbon Neutrality by 2050 through a holistic approach covering 'Multiple Electrified Technologies for New Vehicle sales in a realistic and sustainable approach' and 'Life Cycle Actions' to reduce CO2 from the cradle to grave of the vehicle. Towards this goal, we are happy to work with like-minded organisations, such as IUCN on biodiversity conservation activities"
Appendix:
Toyota - IUCN partnership
Announced in 2016, a five-year partnership between IUCN (International Union for Conservation of Nature) and Toyota Motor Corporation (Toyota) on the IUCN Red List of Threatened Species significantly increased knowledge on the extinction risk of more than 28,000 species. Furthermore, IUCN and Toyota have since 2018 co-organised on B-DNA, a platform bringing together 17 companies in Thailand toward contributing to biodiversity conservation.
About JICA
Japan International Cooperation Agency (JICA) is an international cooperation organization that is centrally responsible for the implementation of Official Development Assistance (ODA) as Japanese Governmental Organization in an effort to reduce poverty and address other challenges in partner countries, while efficiently mobilizing Japan's human, technical, and financial resources, with the enhancement of collaboration with our partners.
About IUCN
IUCN is a membership Union uniquely composed of both government and civil society organisations. It provides public, private and non-governmental organisations with the knowledge and tools that enable human progress, economic development and nature conservation to take place together.
About Toyota
Founded in 1937, Toyota is a global automotive company with production in 29 countries and sales in more than 170 countries.
Toyota has announced 'Toyota Environmental Challenge 2050' with aims to help establishing a future society which create low carbon emission and living in harmony with nature.
Furthermore, Toyota committed to Carbon Neutrality throughout lifecycle by 2050 and Carbon Neutrality in factory operation by 2035
Toyota plans to globalize long-run environmental grants program and to create environmental preservation projects in collaboration with the organizations that engage in such activities on a global scale.