Technical cooperation by JICA contributes to the development of some domains in Tunisia Tunisian agencies had developed wide varieties of expertise and technologies through the collaboration work with JICA in Tunisia.
To correspond to a variety of development needs, JICA is implementing South-South Cooperation (SSC) in collaboration with the Tunisian Agency for Technical Cooperation (ATCT). The main objective of this SSC is to share the fruits of Japan's technical cooperation with other countries.
Present activities include the implementations of training courses for 430 participants (FY2007) whose occupations vary with engineers, government officials and others. The main subjects of courses are "Youth Reproductive Health", "Marine Resource Research", "Solid Waste Management" and "Public Finance Management",
SSC is considered as much more efficient method for providing technical support to African countries than implementing directly from Japan. This idea was recognized at the Fourth Tokyo International Conference on African Development (TICAD IV) in May 2008, which highlighted the importance of expanding partnerships through the cooperation of SSC.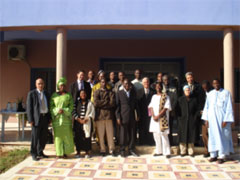 Participants of training course "Solid Waste Management"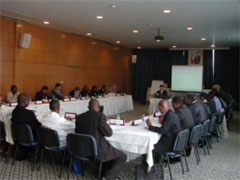 Workshop of training course "Public Finance Management"
Third country training for youth reproductive health
During 1993 to 1999, JICA implemented technical cooperation project to transfer the technologies and knowledge of reproductive health that contributes significant results in reducing its population growth rate in Tunisia.
Through the experience of significant results, Tunisia has assisted other French-speaking African countries through numerous programs since 1999 by implementing training courses based on the knowledge and tools which were originally obtained through the JICA's technical cooperation. It is desired that the courses will assist these countries in improving women's health care management, population control and HIV/AIDS prevention.
By implementing three training courses from 2006 to 2008, 45 participants (mainly officials and healthcare practitioners in each country) were joined to the course and studied to Tunisian successful activities and case studies. The training course also focused on the case studies from the participant's countries and exchanged actively about their opinion.
Furthermore, the National Office for Family and Population (ONFP), which has since become the lead executing agency in the domain of sanitation and reproductive health in Tunisia, received JICA President's Award in 2008 due to the long-term contribution for South-South Cooperation in promoting youth reproductive health in Tunisia and French-speaking African countries.