"The Agreement on Technical Cooperation Between the Government of the Republic of Turkey and the Government of Japan" was signed on 13th October 2020 in Ankara. H.E. Mr. Mevlut Cavusoglu, Minister of Foregin Affairs, H.E. Mr. Akio Miyajima, Ambassador of Japan to Turkey, Mr. Namuk Guner Erpul, Director General of the Asia-Pacific Bureau of the Ministry of Foreign Affairs and Mr. Hideaki Matsuoka, Senior Representative of JICA Turkey Office participated in the signing ceremony.
Minister Cavusolgu said: "Japan is currently one of our biggest trade partners in East Asia and technical cooperation is a vital aspect of our economic relations. Japan's ODA in our country since 1959, has been significantly contributing to the development of Turkey. JICA's activities are results-oriented and always constructive. After the 1999 and 2011 earthquakes, JICA dispatched disaster relief teams to Turkey and provided important resources for reconstruction. JICA implemented many important projects in Turkey. Some of them are, Marmaray, Fatih Sultan Mehmet Bridge, Golden Horn Bridge, Istanbul and Ankara Water Supply Projects. The agreement that was signed today will expand the cooperation between the Turkish Cooperation and Coordination Agency (TİKA) and JICA, will increase cooperation opportunities especially in third countries, and will give momentum to the technical cooperation activities and projects of JICA in Turkey.
Japanese Foreign Minister, H.E. Mr. Motegi Toshimitsu, who sent a message to the ceremony, said that he wished that the Technical Cooperation Agreement, which was signed today, would come into effect as soon as possible in order to deepen the relations between the two countries.
H.E. Mr. Miyajima stated that the technical cooperation between the two countries dates back 60 years, and this agreement is expected contribute in comprehensive projects such as disaster measures, Turkish-Japanese science and technology university, assistance to Syrian refugees, and support to third countries in cooperation with TIKA.
The agreement was signed by H.E. Mr. Miyajima and Mr. Erpul in the presence of H.E. Mr. Cavusoglu.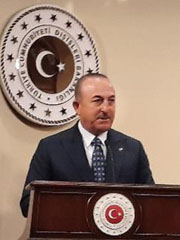 Foreign Minister of Turkey, H.E. Mr. Mevlut Cavusoglu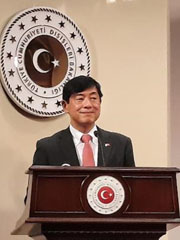 Ambassador of Japan to Turkey, H.E. Mr. Akio Miyajima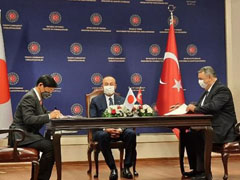 Signing of the agreement