Uganda unlike most African countries has suitable soils for both subsistence and commercial food production. This confirms the fact that the agriculture sector employing about 70 % of the working population is the cornerstone of Uganda's economy. Considering the fact that agriculture is the main source of income for rural residents and that 96% of the population below the poverty line lives in rural areas, modernizing the agricultural sector and improving agricultural productivity, competitiveness, and income is extremely important in promoting economic growth not only for rural areas, but the entire country.
Rice Promotion
Coalition for African Rice Development (CARD) Initiative
JICA, in partnership with Alliance for a Green Revolution in Africa (AGRA), launched an initiative on the occasion of 4th Tokyo International Conference on African Development (TICAD) in 2008 to support efforts of African countries to double rice production from 14 million MT to 28 million MT by 2018.
Under the framework of CARD, JICA supported the formulation of the National Rice Development Strategy (NRDS) and is currently supporting efforts by the Government of Uganda to formulate a Roadmap for Rice Seed Value Chain Development in Uganda.
Support to Rice Sub-sector through the Promotion of Rice Development Project (PRiDe)
Considering successive outcomes from past rice projects, Japan has been implementing the Promotion of Rice Development (PRiDe) project since November 2011 in partnership with the Ministry of Agriculture, Animal Industry and Fisheries (MAAIF), and its associated agencies: National Agricultural Advisory Services and National Agricultural Research Organization. As a comprehensive 5-year project (2011-2016) targeting 40,000 farmers, PRiDe aims at increasing rice production by 20,000 tons through building capacity for rice related researchers, institutions, extension service providers and farmers, for improved rice quality in the market.
The project covers three agro-ecological environments: rain-fed upland, rain-fed lowland, and irrigated lowland; and it also focuses on mechanization and rice value chain development. It is expected to contribute to increased national rice production by approximately 10 %.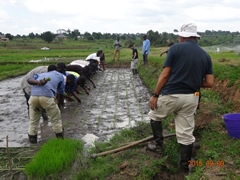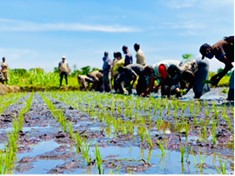 Irrigation
Project on Irrigation Scheme Development for Central and Eastern Uganda
As a part of the Rice Promotion Program, Japan is currently undertaking a feasibility study on irrigation development in 2016. The project aims at assuring national food security, improving farmer household income, and building capacity for irrigation and natural resource management, while widening irrigation coverage. Expected outputs are; development plans for 10 potential sites; feasibility study for prioritized sites; and finally, capacity building of stakeholders in natural resource and irrigation development, operation and management.