On April 28, 2021, JICA Ukraine in close cooperation with the national technical university Ihor Sikorsky Kyiv Polytechnic Institute (KPI) conducted a multidisciplinary seminar on development of Japanese economy and business.
The event was hosted by KPI Sociology Department and moderated by Professor Pavlo Kutuyev and Mr. Satoshi Sugimoto, Resident Representative of JICA Ukraine office. Among the key panelists were representatives of Japanese businesses who work in Kyiv, Asian Studies scholars and researchers. More than 90 KPI students from different departments participated in the seminar.
Mr. Sugimoto shared a brief overview of JICA activities in Ukraine with emphasis on the educational component, namely JICA Program for Japanese Studies. One chapter of the one of the seven video lectures dedicated to modernization of Japan was the key pillar of the seminar. The lecture titled Economic Growth and Japanese Management, narrated by Dr. Hiroyuki Itami, President, International University of Japan, described the Japanese approach to conducting business and management, that helped Japan to recover form devastating consequences of WWII and become one of the world's leading economies. This process was called a "Japanese Miracle", which demonstrated a fast pace of economy development. Dr. Itami profoundly explained the role of private sector based on relatively unique Japanese corporate systems and management principles. He introduced the several key concepts, such as "employee sovereignty", "diffused sharing" and "peoplism" etc., with social and historic background, which motivate employees to work for long-term interests of their company and for their own better future.
Dr. Olena Mykal of Kyiv Mohyla Acacemy, who was present at the event as panelist, gave a short comment regarding the video lecture. She underlined, that the Japanese management concept of peoplism, which is appreciation of people and their capacities, was a driving force for Japanese economic development with Kaizen effort by employees.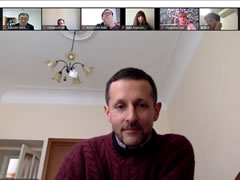 Prof. Pavlo Kutuyev, Chair of Sociology Department, KPI
The video lecture was followed by presentations of participants from Japanese companies who work in Ukraine. Thus, the participants had a chance to get familiarized with their experience and approach in comparison with the lecture by Dr. Itami. They explained how their company is working towards integrating innovative approaches into its business models, shared his experience of working on Ukrainian market.
The presentation component followed by a dynamic discussion, during which students asked lots of questions about relations between management and employees, impact of digitalization on company management, gender issues - is there a glass ceiling for women to continue working as key staff.
All participants agreed that the event was a great starting point and are looking forward for the next seminars dedicated to Japan. JICA Ukraine office working towards continuing cooperation with KPI and establishing new partnerships with other reputable academic institutions in Ukraine.
Please visit the JICA Chair page for more information on JICA Program for Japanese Studies: https://www.jica.go.jp/dsp-chair/english/chair/index.html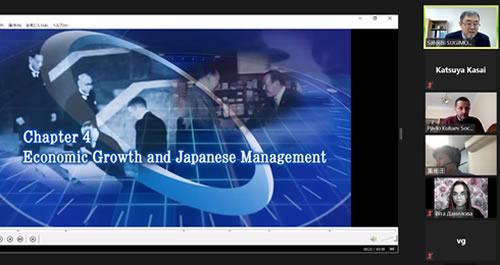 Video lecture on "Economic Growth and Japanese Management"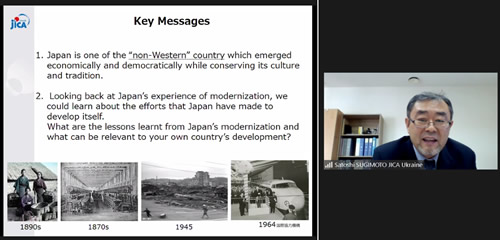 Mr. Sugimoto, Resident Representative of JICA Ukraine Office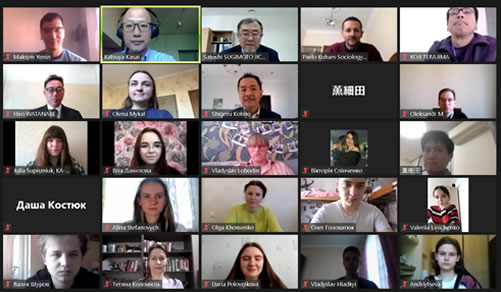 Group photo after the special lecture