Representatives of JICA Ukraine office conducted a first offline meeting with newly appointed PBC chairman Mykola Chernotytsky and PBC team. The parties expressed mutual appreciation of JICA supported Project for capacity development of public service broadcaster in Ukraine. The project is implemented by NHK International and consists of multiple activities - from support in the creation of TV programs to training programs and elaboration of reporting guidelines for PBC staff.
PBC underlined the importance of JICA's cooperation in the creation of a new control room, which will have technical capacities to work with 4 studios in remote production mode. For the implementation of this project, the Government of Japan provided grant assistance which covered procurement of the necessary equipment for the control room. PBC technical director Yuri Boychuk assured that the increased technical capacities will significantly improve the production capability of content. PBC gave JICA a short tour and showed key studios, facilities for the new control room and shortly described the production process of various TV content.
PBC team reiterated its commitment to continue working in accordance with high standards of journalism and media management. The company has outlined two priorities - to develop its digital component and production. PBC hopes that the development of digital will help them to compete for younger audience.
JICA will continue working with PBC team for the successful implementation of the project and PBC's effort to establish reliable public broadcasting.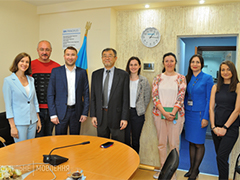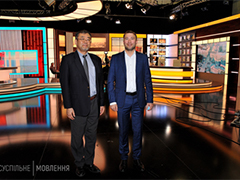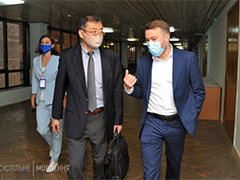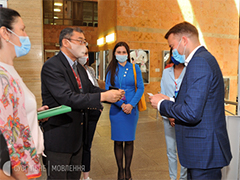 Photos by Volodymyr Shevchuk