Boekara Rebecca
Program Officer
On 02 of September 2019, JICA Vanuatu Office did a farewell for two Public Servants who will be travelling to Japan to Pursue their two years Masters studies under the JICA's SDG Global Leaders Program (Pacific LEADS).
Mr. Benjamin SHING is a former Director at the Vanuatu Project Management Unit and Ms. Carol ROVO, the Principal Health Planner, in Policy, Planning & Corporate service, Ministry of Health, were the two successful participants for this program.
Mr. SHING will be undertaking International Relations studies in the Ritsumeikan Asia Pacific University and Ms. Carol ROVO will undertake Public Management and Policy Analysis at the International University of Japan.
The Resident Representative of JICA in Vanuatu, Mr. Naoki TAKECHI is pleased to witness two more participants under the Master's Program. He wish them to do their best and return with more skills and knowledge to contribute to the development of Vanuatu.
Her Excellency Ambassador Harumi KATSUMATA, the ambassador of Japan in Vanuatu is also present at this ceremony and conveys her acknowledgement to JICA for this program to support the capacity building for Vanuatu Personnel's so they in turn contribute to the country's development.
The two officers were glad that they were chosen out of many to be part of that program. They confirm to do their best and to return and help build up Vanuatu. They also acknowledge JICA for the opportunity, their respective superiors and Ministries, families and others for their support.
On behalf of the government of Vanuatu through the Public Service Commission, Mr. Joses SETH congratulated the two officers. He stated that they were both well-recognized officers of the government of Vanuatu and he could not wait to receive them back with their qualifications for further enhancement and improvement in their respective sectors.
Joined with the successful participants in the ceremony are their spouses, respective superiors, Department of Foreign Affairs, DSPPAC, VIPAM, and PSC. The former alumni participants of the similar program were also part of the ceremony.
The evening ended with chats and enjoyment of drinks and Japanese dishes prepared by Kanpai Restaurant (Japanese owned).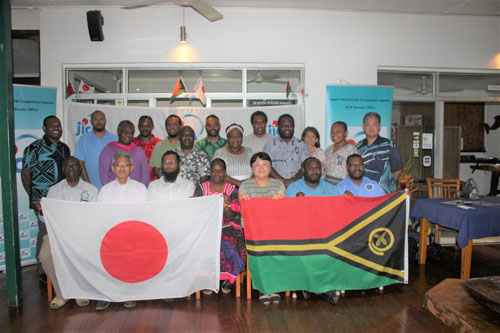 Group Photo (Front Row (L-R) Joses SETH, Naoki TAKECHI, Benjamin SHING, Carol ROVO, H.E Ambassador Harumi KATSUMATA, Charlie NAMAKA, Dr. Posikai Samuel TAPO)
(Back Row (L-R) Ini TABIAGA, Emmanuel BLESSING, Adeline KONMAWI, Tony TATAKI, Mark VUROBARAVU, Eric NALAU, Nicky DOAN, Sylvie BOULEKOURAN, Pierrick LESINES, Wensie NAKI, Masako SHING, Rebecca BOEKARA, Katsuhiko OHARA)