Reported by Ridley MAGMUI (Mr.)
Principal Training & Curriculum Officer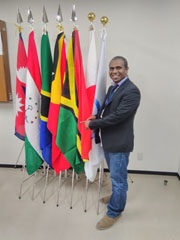 I am Ridley MAGMUI, working in Vanuatu Institute of Public Administration and Management (VIPAM) as Principal Training and Curriculum Officer. I have joined the JICA Training "PUBLIC PERSONNEL ADMINISTRATION FOR MIDDLE LEVEL OFFICIALS" from January 26, 2020 to February 15, 2020 in JICA TOKYO Centre.
The Public Personnel Administration for Middle Level Officials is a very important training that helps participants to excel to other level of improving public administration and Human Resources process and procedures. It was anticipated that after the training, participants would implement what has been emphases during the three weeks training.
Unfortunately, I can't implement all the theory and experience in my workplace, due to the fact that technology, professional human expertise, culture, Central Government and Local Government structure does not match or in line with the Vanuatu government structure.
However, I am fortunate and privilege to attend this important training that motivates me to better improve Vanuatu Public Service Administration. I have learned so much from this training, specially the structure of Japan from the Central Government to Local government and Municipals. This ensures easy quality service delivery to communities in rural areas.
I also experienced how the National Personnel Authority (NPA) works with the government line agencies to deliver quality assured training to the Public Servants in Japan. Last but not the least, the experience from the presenters during the training were very helpful. It provides a wealth of knowledge on how to improve my performance as a public servant.
Lastly, the entire field studies during the training portrays the reality of how Human Resources of each factories and organisation visited were established and their processes of addressing human resource challenges in their work place.
I personally thank the JICA Vanuatu and JICA head office in Japan for accepting my application and facilitating this important training to the fourteen participating countries.