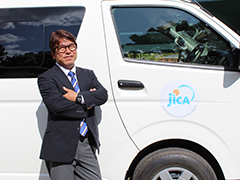 Welcome to JICA Zambia office website!
On 21st April, 2022. I took Office as JICA Zambia Chief Representative after completing my tenure in Ghana and Japan.
It is my first time in Zambia and I must say that the country is blessed with peaceful and friendly people.
As you know, Zambia has a population of about 19,366,251 and it is well endowed with a variety of natural resources and heritage sites, the famous one being the Victoria Falls which is ranked as one of the world's largest falls, this to me means that Zambia has a lot of precious assets and high probability of development.
Although Zambia is a landlocked country surrounded by eight countries in Southern Africa and it is home to 73 tribes that hail from the 10 Provinces, no war or conflict have occurred in their modern history.
Based on this gratifying environment, and in order to expedite further socio-economic development here, JICA has been implementing its programs, namely Technical Cooperation, Financial Support such as Loans and Grant Aid and Dispatching Japan Overseas Cooperation Volunteers in many sectors. In helping Zambia to pull through this COVID -19 pandemic, JICA has provided support in the Health sector through the donation of Hospital equipment such as BP Machines, Thermo Guns and Oxygen concentrators.
In addition, JICA has continued providing short-term and long-term training in Japan and third countries for participants' capacity building in their various sectors. This program is implemented in all 150 countries where JICA operates and it seeks to improve and strengthen Human Resource Development. Over 4,000 Zambians have so far benefitted in these Trainings provided by JICA.
Although the Country is now facing many economic challenges while tackling the devastating effects of the COVID-19 pandemic, JICA will comprehensively contribute to the achievement of Zambia's 8th National Development Plan and Vision 2030.
Besides, this year TICAD 8 will be held, an initiative by Africa themselves for their development. It is definitely an important agenda and we as JICA, have been and will be supporting Zambia for constructing a resilient society.
April, 2022
YONEBAYASHI Norihito
Chief Representative of JICA Zambia office
Japan International Cooperation Agency (JICA)