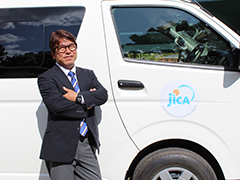 Welcome to JICA Zambia office website!
The Republic of Zambia is a landlocked country surrounded by eight countries in Southern Africa. About 18 million people consisting of 73 tribes live in the country. Zambia is 2 times as large as Japan and very peaceful.
Zambia gained its independence in 1964 from U.K. At that time, the country was in a one- party state. It carried out its first multi-party elections in 1991 for the first time. Thereafter, I have witnessed 7 general elections being held in a peaceful and democratic manner, with the recent one held on 12th August, 2021.
The Zambian economy became sluggish after independence for a long time but later recovered due to increased copper exports at the beginning of the 21st century. However, the international copper prices began to fall rapidly in 2011 which caused a slowdown in the economy. Other factors that caused adverse effects on the economy include floods and drought. In addition, Zambia has not been spared from the devastating effects of the novel Corona virus since the first case was reported in March 2020. Since the first Covid case, the number of infected persons and deaths has been on the increase. It is my hope that every Zambian will take stringent measures in fighting Covid-19.
JICA has effectively provided support mainly through Technical Cooperation and Financial Support such as Grant Aid in the agriculture sector, health sector, education sector, water sector and infrastructure since 1970. For example, JICA provided Technical Cooperation to the University Teaching Hospital new born baby ward commonly known as "D Block" in 1983. At the same time, JICA embarked on supporting the school of veterinary medicine at the University of Zambia as a Grant Aid. The school has produced more than 500 veterinarians so far.
In addition, the facility at the school of veterinary medicine is used for conducting Coronavirus tests and other zoonotic virus tests. Researchers now play a key role in inspection of various viruses as they now have high-level laboratories at their disposal.
Furthermore, more than 1,600 JICA volunteers have been dispatched to Zambia since 1970. I am glad to mention that I was also once a JICA volunteer here in Zambia 30 years ago and I lived in Zambia for 3 years. This is why I feel Zambia is my second home. This year JICA will be celebrating its 50th anniversary for JICA volunteers.
However, volunteers and experts were evacuated to Japan last year due to the COVID-19 pandemic. I believe nothing is more important than their health and security. Because of this, only four volunteers returned to Zambia from Japan at the beginning of this year to conclude their assignment and activities whilst adhering to strict COVID-19 measures. I always say to the staff at JICA Office "I don't want to know why you cannot do certain things because of the pandemic but rather I want to know what you can do under the circumstance."
I strongly believe that thinking outside the box is one key factor in effective and efficient implementation of JICA projects in order to achieve a prosperous Zambia.
September 2021
TOKUHASHI Kazuhiko
Chief Representative of JICA Zambia office
Japan International Cooperation Agency (JICA)