As of April 30, 2014, JICA has dispatched 1212 volunteers to Bangladesh since 1973. At present 74 volunteers are working in different organizations throughout Bangladesh in the following fields: healthcare, education, rural development, IT, sports, environment and etc.
Introduction of JOCVs in Safe Motherhood Promotion Project Phase2 (SMPP2)
We have interviewed 8 JOCVs working in SMPP2, including 2 volunteers who have been working since phase1. Have you heard about "5S" or "CC"? Do you know why they became volunteers? Here we introduce their activities in SMPP2, where they work and how they feel. They are doing their best as volunteers. You should check it out!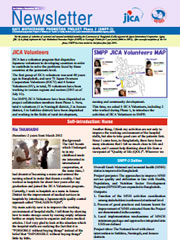 Celebration of 40th anniversary of JICA Volunteers in Bangladesh
It was in 1973 that the first Japanese volunteers started their activities in Bangladesh. In the beginning, newly independent Bangladesh was facing a huge problem of food shortage and to raise the food productivity was its pressing issue. The volunteers began their activities in agriculture sector. They introduced mechanized cultivation, irrigation system, modern vegetable growing techniques and high yielding varieties of rice, vegetables and fruits to farmers. In 2013, we celebrated the 40 years anniversary for the JICA Volunteers Activities in Bangladesh and our incomparable friendship.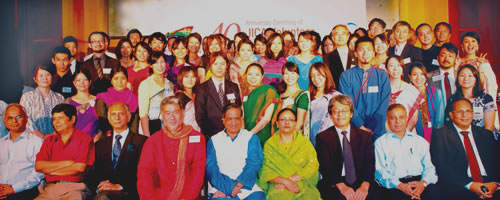 Celebration of 1000 JOCVs (Japanese Volunteers) in Bangladesh
JICA Bangladesh office celebrated the occasion of the "1000 JOCVs in Bangladesh" on 13th October, 2009 at Dhaka. This is the historical commemoration day of JICA's bilateral friendship between Bangladesh and Japan since 1973 when first JOCV dispatched in this country. Honorable Minister of Health and Family Welfare Dr. A.F.M Ruhul Huq was the Chief Guest while Mr. H.T. Imam, Advisor to the Honorable Prime Minster and H.E Tamotsu Shinotsuka, Ambassador of Japan in Bangladesh were special guests. Mr. Teiji Takeshita, Executive Advisor to the Director General of JOCV, JICA HQ, Dr. Takao Toda, JICA Bangladesh Chief Representative, high officials from Government of Bangladesh, JICA officials and JOCVs were present at the occasion.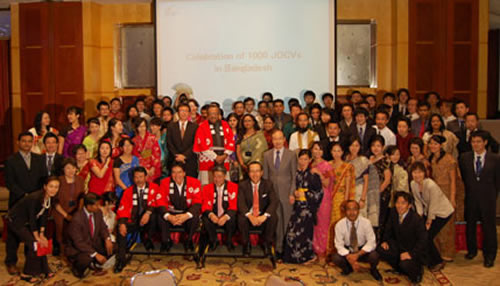 Celebration of 1000 JOCVs