On July 22nd, 2020, 3000 pieces of locally produced, high-quality gowns were sent out to health facilities in Dhaka, Cox's Bazar and Narshindi to protect frontline health workers in the midst of fight against the COVID-19 pandemic. Not only the fabrics used for these gowns are quality-assured by the standards of Directorate General of Drug Administration (DGDA), Ministry of Health and Family Welfare, but also the final products were inspected thoroughly, using Japan's leading technology.
With the spread of COVID-19, the Ministry and the Development Partners saw an urgent need to regulate the rampant use of poor-quality PPE in the country. Then, under the strong leadership of DGDA, a technical working group comprised of WHO, Bangladesh University of Engineering and Technology (BUET), USAID, K2 and JICA was formed with an aim to establishing a quality control system for PPE.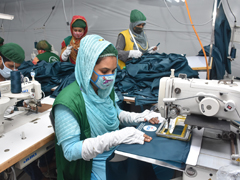 Factory workers producing safe gowns at Snowtex Group
Specifically, JICA engaged K2, a Japan's top garment inspection company that has been running business in Bangladesh over a decade. K2 provided expertise particularly in the area of physical inspection of PPE and spearheaded hands-on training with a local garment manufacturer, Snowtex Group. "I wanted to do something that would contribute to the welfare of Bangladeshi people in this difficult time, as they gave me many great things. Developing safe PPE helps not only health workers but also creates new business chances in Bangladesh. Actually, I have already received positive inquiries from overseas buyers while developing samples", Mr Toshihide Yuda, Deputy Managing Director of K2, expressed his commitment to the project.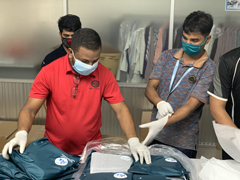 Gowns are being inspected with Japanese technology
This project is remarkable also from the standpoint of promoting the local economy. Bangladesh is well known for its huge garment industry, yet the pandemic hit it hard, leaving many readymade garment factory workers laid-off. Snowtex Group was one of those seriously committed to protecting factory workers even in this difficult situation. "We are so delighted to find a niche in the market and secure jobs for our workers. We always try to do good things for our nation as well as for the world. We are proud to actively participate in the fight against COVID-19", says Mr. SM Khaled, Managing Director, Snowtex Group, a local company that produced gowns with support of JICA and K2.
"The gowns are a fruit of our tireless joint work. Under the initiative of DGDA, WHO, BUET, USAID, K2, Snowtex Group and JICA beautifully collaborated together and came up with a tangible result to ensure the quality of PPE. This, I hope, will benefit all - not only health workers and garment factory workers but all the Bangladeshi people - in halting the spread of COVID-19. I expect this will further pave a way for export markets and bring more benefits to this country", conveyed Mr. Yuho Hayakawa, Chief Representative, JICA Bangladesh.