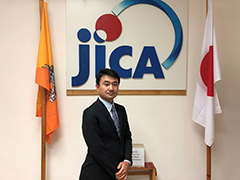 Hello! Kuzuzangpola!
I am assigned as Chief Representative of JICA Bhutan Office and arrived here in Bhutan on 16th March, 2019. Since I started working here, I had chances to meet many government officials, statesmen, NGOs and business leaders. I am very honored to hear from everybody I met, about their sincere appreciations toward outcomes of over 50 years of Japan and Bhutan international cooperation, which strengthened two nations' relationships and fond memories with Japanese persons who worked in Bhutan as JICA's experts and volunteers.
Nowadays, JICA's cooperation activities in Bhutan varies in many fields such as Agriculture and Rural Development, Infrastructure Development, Public Service Improvement, etc. and many cooperation schemes like Technical Cooperation (TC Projects, JICA Volunteers, Grass Roots TC Projects, etc.), Grant Aid, Yen Loan, Public-Private Partnership Programs are operational.
Bhutan is seeking for maximizing Gross National Happiness (GNH) and sustainable nation building considering nature conservation and traditional culture. International cooperation activities between Bhutan and Japan is not one way from Japan to Bhutan but two way learning process that Japan shall learn a lot from Bhutan about sustainable society building. Moreover, we believe that Bhutan has much opportunities to learn from third countries' experience including JICA's cooperation activities in the third countries and we are willing to promote mutual learning among Bhutan and third countries.
We at JICA Bhutan Office, based on the experience and learnings from the cooperation activities so far, collaboratively work with Bhutanese people, together with JICA experts, volunteers and consultants, as well as Japanese companies, organizations including NGOs and citizens, for the Bhutan's social development and enhancing the two nation's friendship further.
I hope this web pages of JICA Bhutan may help your further understanding of JICA's activities in Bhutan.
Kadrinche La
WATANABE Kozo
Chief Representative
JICA Bhutan Office
April 30, 2019