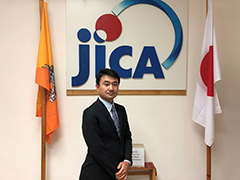 On August 5, 2022, I assumed the position of Chief Representative of JICA Bhutan Office.
After taking up my post, I have had the opportunity to meet with many ministers and other people involved in JICA projects, and I have come to realize the great expectations and trust that the Bhutanese government and citizens have for JICA and Japan.
In Bhutan, since 1964, Mr. Keiji Nishioka, who has been engaged in the expansion of Bhutan's agricultural production for many years and received the title of Dasho (Note: Bhutan's peerage meaning "the best person"), has been under the guidance of Mr. Nishioka. Cooperation in the field of agriculture has become a major legacy, and since then, JICA's cooperation have expanded into technical cooperation (including volunteer and grassroots technical cooperation), grant aid, It has developed into various forms of cooperation, such as yen loans and private partnerships.
The COVID-19 pandemic, which has affected the whole world, has become a big challenge for Bhutan as well. Even in such a situation, we have worked with the Bhutanese government and the community to draw on our wisdom and implement many activities that do not presuppose the coming and going of people between Japan and Bhutan.
In 2022, JICA's relationship with Bhutan will continue after the corona crisis, such as signing a loan agreement (L/A) for the " The COVID-19 Crisis Response Emergency Support Loan", the first yen loan project in 11 years, and JICA's cooperation is entering a new stage.
The number of JICA volunteers dispatched is gradually returning.
Bhutan is overcoming the corona crisis with prompt vaccination. However, it faces very difficult social and economic issues. Continuous trade deficit, shortage of foreign currency, outflow of young people abroad, widening disparity between urban and rural areas, creation of new industries and employment, all of which are serious issues, and will become important development agenda after COVID-19.
JICA will continue to contribute to solving social and economic issues in Bhutan and improve the relationship between Japan and Bhutan based on the experience and trust gained through cooperation thus far.
August 12, 2022
YAMADA Tomoyuki
Bhutan Office
Japan International Cooperation Agency