The students of Bhutan has the opportunity to practice Health & Physical Education (HPE) Exercises aired on Bhutan Broadcasting Services Corporation (BBSC) from 16 October 2020. JICA Volunteers Ms. Asuka Yamamoto, Ms. Kanako Sawada, Mr. Tasuku Iokawa and Mr. Hiroo Kuwahara developed the HPE Exercises video after their premature return to Japan in March 2020 due to the COVID-19.
The Health and Physical Education (HPE) Exercises video is a humble contribution by the JICA Volunteers after the Ministry of Education has started the E-learning program to the students from Class PP - Class VIII with key stage module teaching through national television BBSC. The HPE exercise is expected to help the students to minimize stress, and keep themselves mentally and physically strong besides studying during the COVID-19.
The HPE exercises video is aired twice a day during the E-learning program on BBSC channel and approximately the exercise is estimated to be watched by 119,464 students. All the students and teachers can view the video titled "DRUK GI LUE JONG" (Dragon Exercise) on Sherig Bhutan's Facebook page, Instagram page and the Ministry's website.
This is a report from Ms. Yamamoto leader of the project
"We are One" Beyond the sea, we can go forward together. This is the message of the exercise video.
Recalling the time of March 2020, it was difficult time for many people. We had to temporarily stop our volunteer activity in Bhutan and return to Japan due to the COVID- 19, even though the situation in Bhutan was not severe. We did not have enough time to greet students and colleagues at that time since schools in Bhutan were closed. We expected that we would be able to come back to Bhutan in a few months. However, it was different condition.
Right after returning to Japan, I felt little depressed and did not know how to move on. However, gradually I have accepted the situation of COVID-19 and have changed my mind to do something for Bhutanese students even from Japan. Beginning of April 2020, we heard about the E-learning program in Bhutan, and we started to create the HPE Exercise video with other three JICA volunteers. At that time, we could not meet each other, so we communicated remotely by using video conference and social network applications due to the state of emergency in Japan.
This HPE Exercise is based on Aerobics and Rhythmic Exercise, which is a kind of exercise with fun using rhythmic music to make video interesting for Bhutanese children, so that the students can enjoy exercise in between lessons. Therefore, we use a popular song "Nga Ghu Lab Mi Kha Lu" with a lightening dance at the main part of the music because Bhutan is call as "Druk Yul" in Dzongkha. You can see the message " We are One" with JICA volunteers' smiling photos at the end of the video, and we hope this HPE Exercise video will motivate the students to keep their health better and help to understand significance of HPE as an Education.
During my stay in Bhutan, I found that Bhutanese people are very hospitable, supportive and always nice to others including foreigners as well. This makes me to show my gratitude and respect to the King, Country, and People of Bhutan to show that "We are one", this is the message of our mind that we learnt in Bhutan.
A message from Mr. Kinley Gyeltshen, the Chief of School Planning and Coordination Division (SPCD) under Department of School Education, Ministry of Education to JICA Volunteers for developing HPE Exercise for the students of Bhutan as;
"Thank you JICA and your volunteers for initiating to produce such incredible video clips on Health and Physical Education (HPE). Congratulations JICA Volunteers. The video will definitely help us reach our children every single time. Your work is a joy to witness. I look forward to working on more projects with you ALL. Great job!"
You can also follow the link below: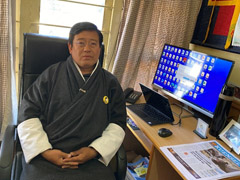 Chief Officer of Ministry of Education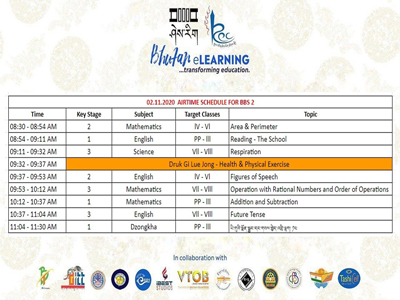 E-Learing Program Schedule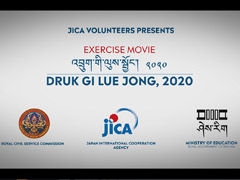 HPE Vedio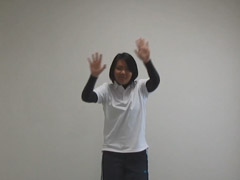 Lightening Dance Image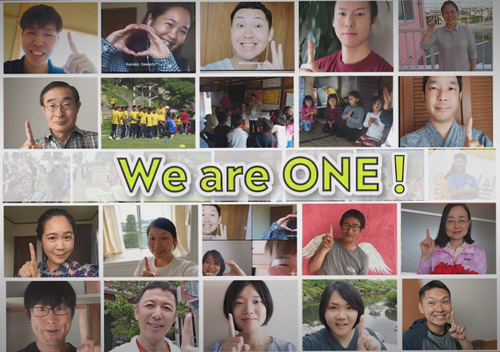 Message of "We are One"