On August 25, 2022, the inauguration of a new fabrication laboratory (FabLab) was held at the College of Science and Technology (CST), Royal University of Bhutan in Phuentsholing. Minister for Labor and Human Resource, Karma Dorji, Vice Chancellor of Royal University of Bhutan, Nidup Dorji, and Chief Representative of JICA Bhutan Office, Yamada Tomoyuki attended to the ceremony.
FabLab CST has been supported by JICA's technical cooperation "Project for Promotion of Technology Education and Diffusion through Digital Fabrication Laboratory (FabLab)" since December 2020, based on a request from the Royal Government of Bhutan.
With the cooperation of JICA, the FabLab CST is equipped with 3D printers, laser cutter, CNC (Computer Numerical Control) milling machines and digital embroidery and sewing machines, and will be open not only to students and staff, but also to local schools, industries and citizens.
Bhutan is a landlocked country with a small population, and its economy relies on imports from foreign countries. FabLabs are suitable for producing small-lot products and meeting a wide variety of needs from various sectors, so it is expected that the development and manufacturing of products that meet local issues will progress. In addition, since design will be done digitally, FabLab CST will foster the next generation who will create works and values using digital technology. In addition, FabLab CST will be connecting point for local people with global citizens who work in the field of digital manufacturing, and it is expected to serve as innovation hub of the country.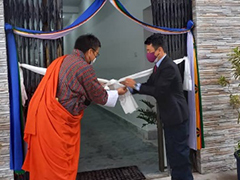 Labour minister Karma Dorji and chief representative JICA Bhutan office jointly inaugurated CST FabLab.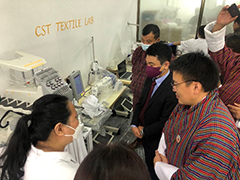 Labour minister observes process of computer embroidery machine in the FabLab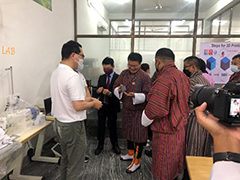 Chief advisor hand over the 3D printed product to labour minister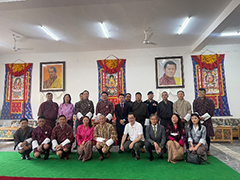 Guest of the inauguration ceremony