The last of the three Non-governmental organisations to receive donations, Skillshare International Botswana, received their sporting equipment from JICA Botswana through the "Smile for All in the World Programme". The sporting equipment comprise of fifty (50) soccer balls, forty-two tennis balls and nine (9) tennis rackets. The Resident Representative of JICA Botswana, Mr Hideo Eguchi once more highlighted how important it is for ordinary Japanese citizens to take pride in giving back to worthy organisations all over the world who are able to utilise donated items positively. He further informed that through JICA's role of facilitating grassroots level development, the organisation will continue to support young people as they are the future leaders of tomorrow.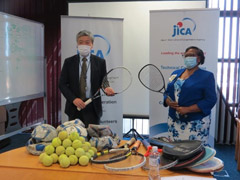 Mr Eguchi and Ms Seane holding some of the items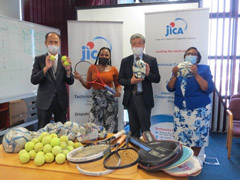 Donated items
The Chairperson of the organisation, Ms Kebareileng Seane expressed her gratitude on behalf of her organisation for the kind donation which will be utilised by youth who are under their care. She noted that more 300 people based at the Dukwi Camp for refugees will utilise the sporting equipment for recreation and also recognised the importance of good physical health which often leads to a healthy mind. The Vice Chairperson for Skillshare International who was also present thanked JICA for identifying them for the donation and expressed hope for further cooperation.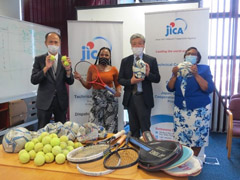 Donated items