"The Japan Overseas Cooperation Volunteer Program (JOCV) has made strides in the development of skills and community projects that had changed the lives of many Batswana".
Permanent Secretary in the Ministry of Foreign Affairs, Ambassador Dr Gladys Mokhawa said this during JOCV's 30th anniversary celebration in Gaborone recently. Dr Mokhawa also thanked the Japanese Government for the volunteer's footprints in Botswana in the past 30 years, adding that their contribution had changed lives since the arrival of the first five volunteers in 1992. She said the volunteers' contribution in various fields such as education, industry and agriculture had made a difference in Botswana and strengthened the diplomatic relations the two countries enjoyed. For his part, JOCV Director General from headquarters in Japan, Mr. Hiroyuki Kobayashi expressed his appreciation to all JOCVs who had been involved in volunteer activities in Botswana for the past 30 years.
Since the first five volunteers arrived in 1992, he said about 420 volunteers were dispatched in various fields such as sports, ICT and many others. He also said the volunteers had been welcomed with love by Batswana and had worked and lived together, which created the trust and friendship bond between Botswana and Japan. The Japan International Cooperation Agency (JICA) Botswana Resident Representative, Mr. Hideo Eguchi thanked all stakeholders for always hosting and supporting JICA volunteers. He said, in 1992, the Ministers of Foreign Affairs of the two governments signed an official document on the implementation of JOCV program. At the time, the Minister of Foreign Affairs was Dr Gaositwe Chiepe and we are happy to recognise that Batswana celebrated her 100th birthday recently.
She was called 'the woman of many firsts', and yes indeed she pioneered the JOCV program and we wish to express gratitude for her "great job", he said. The volunteers focus on grassroots activities, work and live among local communities to share skills and knowledge with their colleagues in the organisations they are assigned to. "Volunteers respect the rich culture, natural resources and the landscape Botswana has and also support social and economic development in the country", he said.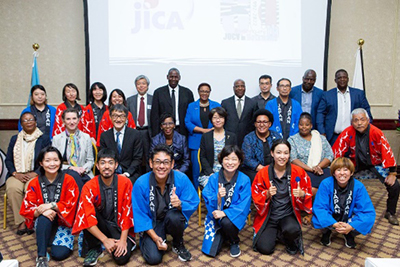 Group photo after the event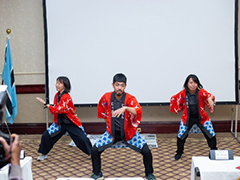 Traditional Dance by Volunteers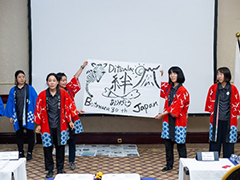 Japanese Calligraphy by Volunteers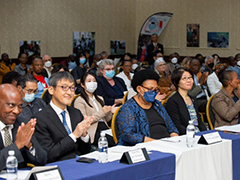 Guests at the commemoration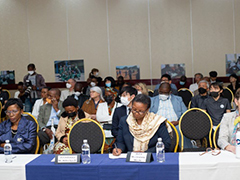 Guests at the commemoration