Connecting the World through Mine Action
2023.11.14
Komukai Eri Senior Advisor
Solving the Landmine and Unexploded Ordnance Problem is time and labor consuming
It has been over 25 years since the entry into force of the 'Convention on the Prohibition of the Use, Stockpiling, Production, and Transfer of Anti-Personnel Mines and on their Destruction,' commonly known as the Ottawa Treaty, in 1997.
164 countries have ratified the treaty by today.

However, conflicts and wars continue to occur in various parts of the world, where landmines and explosives are still being used. Landmines and Unexploded ordnance (UXO), which remains buried or scattered, poses a significant challenge as it takes relatively little time to lay or drop these devices, but requires a substantial amount of time, effort, and funding to locate and excavate them for disposal.

In the year 2000, I visited the field operations of the Cambodian Mine Action Centre (CMAC), which had been two years since the conclusion of the conflict in 1998. At that time, CMAC officers explained to me that it would take approximately 100 years to clear all the landmines.
Sharing Knowledge Across Borders
Since 2000, CMAC has been accelerating the releasing of contaminated areas by enhancing its methods, techniques, and equipment for survey and clearance. Their goal is to fulfill the Ottawa Treaty by 2025 and establish a timeline for clearing all anti-personnel mines buried within Cambodia.

During the period from 1992, when CMAC commenced its activities until around 2000, the annual cleared contaminated area was approximately 10 km². However, through continuous efforts to improve the effectiveness and efficiency of their operations, including research, training, and institutional development, the area released expanded to 160 km² in 2022.

JICA has been working to facilitate cooperation between CMAC and other landmine and UXO contaminated countries to ensure that the knowledge accumulated by CMAC can be applied in these countries. South-south cooperation with CMAC started for Colombian government officials in 2009, and by 2022, over 500 government personnel involved in mine action in Laos, Angola, and Iraq benefit by south-south cooperation by CMAC.

Starting in 2023, CMAC has provided training to government personnel in Ukraine involved in mine action, conducted in Poland and Cambodia with the cooperation of JICA.

Additionally, for Colombia, which aims to fulfill the Ottawa Treaty by 2025, just like Cambodia, CMAC has not only provided training but also supported to improve productivity of mine clearance activities. CMAC officers have observed activities in Colombia, and took officers of Colombia to Cambodia's mine clearance fields and conducted technical analysis and recommendations for Colombia.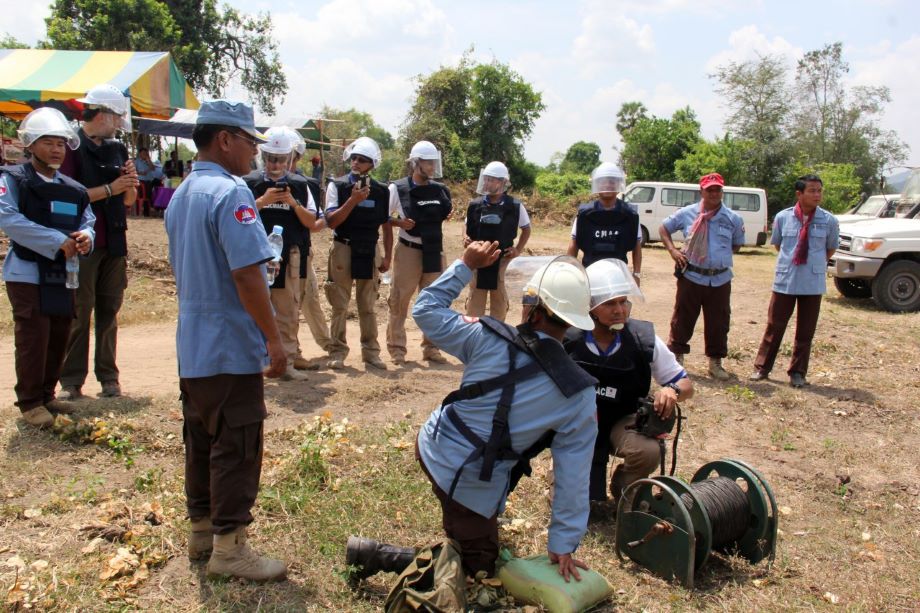 Colombian government officers observing operations at CMAC for mine clearance.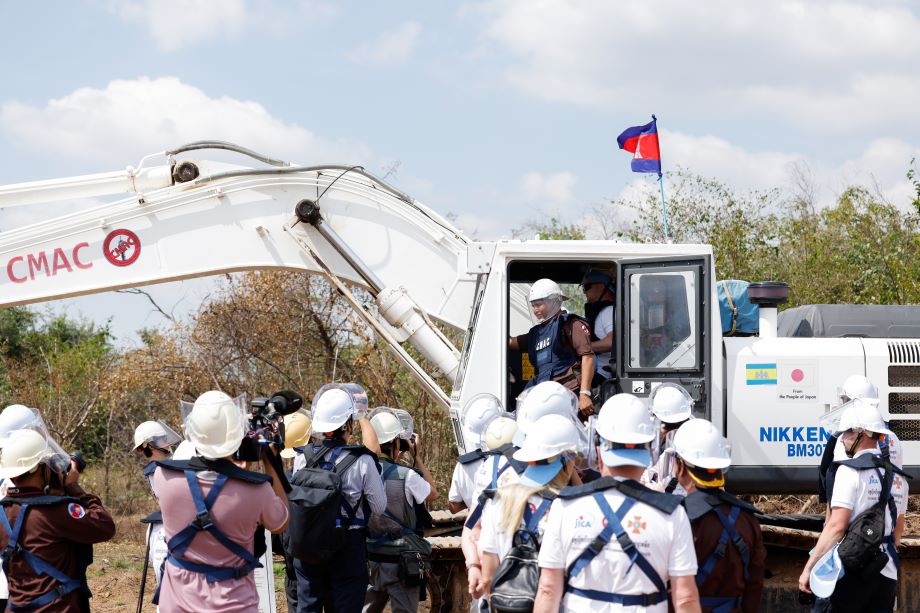 Ukrainian government officers observing operations at CMAC for mine clearance.
JICA, CMAC, and the United Nations collaboration for African countries
In October 2023, we began to move forward with additional initiatives. On October 5th and 6th, over two days, JICA, CMAC, and the United Nations Mine Action Service (UNMAS) co-hosted a workshop in Nairobi, the capital of Kenya, inviting national organizations responsible for mine action in four countries: Ethiopia, Nigeria, Somalia, and South Sudan.

Ethiopia has experienced conflicts with armed groups in various regions even after gaining independence, and more recently, the Tigray conflict has erupted. As a result of these conflicts, there are suspected contaminated areas in seven out of the country's ten regions.

Due to the insurgency of Boko Haram, Nigeria has landmines and UXO buried in the northeastern states of Borno, Yobe, and Adamawa. Somalia has also been engulfed in armed conflicts in wide areas, and in 2023, there are already 73 civilians casualties of landmines and UXO, and 223 civilians have fallen victim to improvised explosive devices (non-standard homemade bombs made from available explosives and detonation devices).

In South Sudan, over 4,500 people were recorded to have been victims of landmines and UXO in the ten years before independence, and since the country's independence in 2011, there are over 700 casualties of landmines and UXO.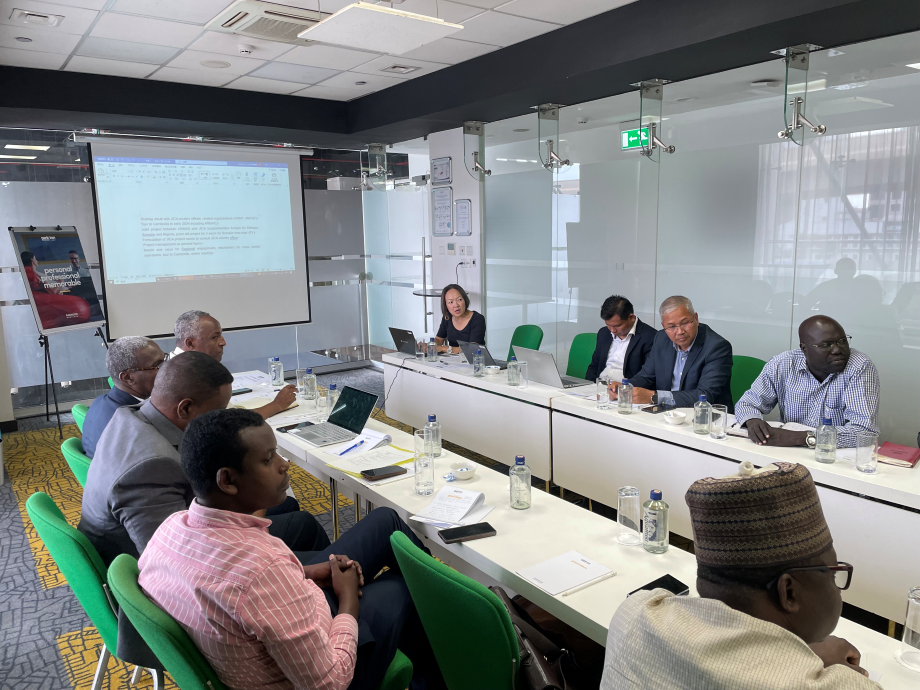 Discussions on mine action at the workshop in Nairobi.
In all 4 countries, landmines and UXO not only pose a threat to people's lives but also hinder the reconstruction and development of the countries and regions. However, it has become evident that baseline surveys to identify the contamination of landmines and UXO in each region have not been conducted in all four countries.

One of the factors that has contributed to CMAC's improved efficiency is the increased precision of pre-clearance surveys. Instead of blindly deploying equipment for detection and clearance, CMAC first gains a certain level of understanding about the characteristics and density of contamination in a target area, enabling them to choose the appropriate methods from toolbox. This approach has increased the speed of detection and clearance. Participants from the 4 countries have recognized the importance of surveys from the perspective of effectively utilizing limited funds.
The Importance of National Ownership in Achieving Solutions
UNMAS conducts mine action activities as part of United Nations peacekeeping efforts. UNDP and UNICEF also provide support in areas such as capacity building and mine risk education. The Geneva International Centre for Humanitarian Demining (GICHD) is active in fields like information management systems for mine action and research support for new technologies.

In collaboration with these organizations, JICA supports capacity development for the governments of mine- and UXO-contaminated countries, enabling them to resolve the issue.

Long-lasting landmines and UXO left behind after wars or conflicts pose threats to the civilian population and hinder a country's reconstruction and development. To address these issues, strong and continuous commitment of the governments of affected countries is essential.

CMAC, which has continuously improved its mine action activities and shared its knowledge with countries worldwide for over 30 years, is a crucial partner for JICA.