Message from the Chief Representative
Thank you very much for visiting our Website!
My name is Junichi MIURA, and I am very excited to have an opportunity to work together with Ecuadorian people for the development of Ecuador.
JICA is an executing agency of Japan's Official Development Assistance (ODA) under the mission "To Work on Human Security and Quality Growth", and the vision "Leading the World with Trust".
In 1960, the Japan's cooperation began in Ecuador with the Training Program. In 1991, the JICA Ecuador Office was established, although its activities were still very limited in that moment.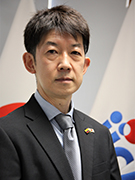 Since then, more than 30 years have passed. During the time, JICA has extended significantly its cooperation. Currently, JICA executes several cooperation projects through variety of schemes, such as Technical and Financial Cooperation, and stakeholders are not only governmental entities, but also private companies and NGO's.
We have three priority areas in the cooperation policy for Ecuador: (1) Development of Economic Infrastructure; (2) Reduction of Economic Gaps and Inclusive Society; and, (3) Environmental Conservation and Disaster Prevention. Japan has a lot of experience and knowledge accumulated in these areas, and we believe that we can contribute significantly to the development of this country.
Ecuador is one of the smallest countries in South America. However, it has a lot of development potential, which includes its natural environment, biodiversity and people. We would like to do our best effort together with the people in Ecuador in order to create a better world.
MIURA Junichi
Chief Representative
JICA Ecuador Office