Location
Address
JICA Jamaica Office
5th Floor, Courtleigh Corporate Centre 6, St. Lucia Avenue, Kingston 5, Jamaica (W.I.)
Mailing Address : P.O.Box 8202, C.S.O., Kingston, Jamaica (W.I.)
Tel : (1-876) 9294069, (1-876) 9600021, (1-876) 9080847
Fax : (1-876) 9294027
Office hour :
9:00 - 17:00 (Lunch Break 12:30 - 13:30)
Office closed :
Saturdays, Sundays and refer the office calendar below.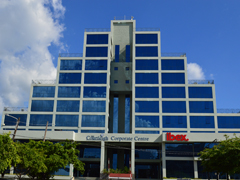 Map
JICA Jamaica Office was established after the government of Jamaica signed an agreement in 1987 with the government of Japan so that the Japan International Cooperation Agency, JICA, could provide technical Assistance to Jamaica. After this official Exchange of Notes in 1987, JICA commenced its cooperation programme in Jamaica in 1989.

Related Information