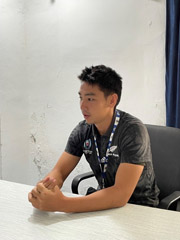 Mr. Iwamizu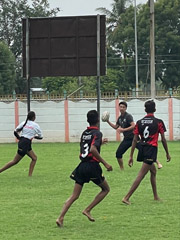 Afterschool Rugby Training
Mr. Iwamizu Youhei is a Japan Overseas Cooperation Volunteer (JOCV) for Rugby development in Gujarat. From June 26 to June 28, 2022, Mr. Matsumoto from JICA India visited the activity site and conducted an interview.
Mr. Iwamizu has been designated as a rugby coach at OM Landmark School, Chiloda, Gujarat, since October 2021. Currently, he is coaching various teams of Junior (under 18 years old) and Senior (18 and older) players in Gujarat, as well as the state national team. During the first three months of his stay, he was unsure about his coaching methods. At first, he used a 'soft' coaching approach by becoming good friends and building an informal relationship with his team. However, this approach did not help improve the rugby skills of his team. Through trial and error, he realized that gaining respect from the students is more important than maintaining friendly relationship with them. He encouraged his students to work hard at becoming good at rugby by showing his own ability and experience as a skilled rugby player. Through this experience, he learnt the difference between the coaching styles in India and Japan.
At the 2022 National Rugby 7s Championship in June, he led the Gujarat national teams, and his teams were placed 15th out of 29 teams in the senior boys division and 10th out of 27 teams in the junior boys division. Mr. Iwamizu found it particularly rewarding when his players cried and expressed frustration towards their loss in a match. Formerly, not many players took rugby seriously, where many students had always emphasized academics over sports. He wanted to show his students, through rugby, the importance of focus, discipline and efforts to achieve a specific goal.
It was observed in the National Championship that a few other State teams were better ranked than the teams from Gujarat, despite they had started playing rugby at approximately the same time. Mr. Iwamizu's next goal is to achieve better results at the upcoming national competition in 2023. He is determined to accomplish this goal by improving his coaching methods for his team players.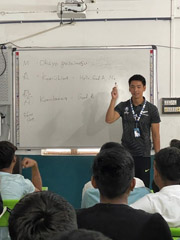 Japanese lesson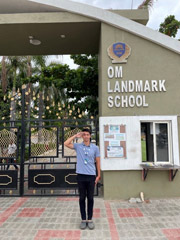 Mr. Iwamizu and school entrance
Mr. Iwamizu stays in the school hostel with the students. He spends a lot of time with his students, including meals and free time. He sits at a table with the students in the cafeteria and eats breakfast, lunch and dinner. In the evening, he goes around to the students' rooms and engages them in lively conversation.
In order to build good relationship with the students, Mr. Iwamizu has made consistent efforts. OM Landmark School has two learning mediums, i.e. English medium and Gujarati medium. Majority of the students who have studied in the Gujarati medium hardly understand English.
Mr. Iwamizu communicates with the students in Hindi, which he learned during his two-month pre-assignment training in Japan. He has also learnt Gujarati from the students during his seven-month stay. When he sings songs in Gujarati with the students, they all smile cheerfully and accept each other as if they are family.
He also focuses on activities other than rugby coaching. He offers lectures to the students on the Japanese language and culture. In the lectures, he teaches simple greetings phrases in Japanese and introduces what the Japanese society looks like compared with other East Asian countries. The students participate in the class very actively. After school he plays kabaddi and other recreational games as well as interact informally with the students. He believes these methods of engagement will help him develop mutual trust and understanding with his students. He is a rigorous coach during rugby practice, but off the field he has a very friendly relationship with his students.
During his stay in Guharat as a JOCV Mr. Iwamizu has three goals: first, to promote rugby and develop players in Gujarat; second, the physical and mental development of the students through physical education; and third, to build trust and establish strong foundation for his work and future JOCVs who are assigned as rugby coaches. He will continue working until October 2023 to build and foster grassroots level trust and relationship between India and Japan.