New Delhi, November 01, 2021: Today, it is Hello Kitty's birthday. On this very date, Japan International Cooperation Agency (JICA) and Japanese entertainment company Sanrio (Sanrio Company, Ltd.) announces to disclose a video where Hello Kitty sings a song in Hindi to promote the correct way of handwashing. The video is a small edutainment gift for children to celebrate the Indian festival of lights, Diwali. The video will be available on JICA YouTube Channel "JICA Channel2" on November 4th, 2021.
Hello Kitty is a world-renowned character, known for her adorable looks and kindness for others. In recent years, she has expanded her focus to promotion activity of Sustainable Development Goals (SDGs) through her YouTube Channel (HELLO KITTY CHANNEL). The United Nations (UN) has acknowledged her dedication and since September 2019, Hello Kitty in collaboration with the UN has introduced SDGs engagement around the world through her videos.
In January 2021, JICA launched a campaign titled, "Achhi Aadat (Good Habit)" to raise awareness about the importance of good hygiene practices to prevent the spread of infectious diseases, including COVID-19. This program has been implemented in collaboration with IJ Kakehashi Services Pvt. Ltd and various NGOs, as well as government authorities and private companies to directly educate more than 40,000 people.
Speaking on the occasion, Mr. SAITO Mitsunori, Chief Representative, JICA India said, "JICA has been cooperating with the Government of India to fight the spread of COVID-19 including through financial support of INR 5,500 crore and considering further measures to cope with the situation. The school children and community people, who we have reached through the Achhi Aadat Campaign, have enjoyed learning the principles of hygienic practices to protect themselves and their loved ones, including family members, friends and neighbors. We hope that more and more people in India will enjoy the Hello Kitty videos and continue to keep in mind the importance of handwashing practices."
When JICA India held a special online event for 130 children in India on October 14th, 2021, Hello Kitty appeared from Japan to directly convey her messages to the children. Her involvement was highly appreciated by participants, and Hello Kitty is also planning to appear in some educational programs under Achhi Aadat Campaign going forward.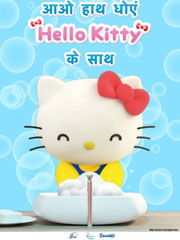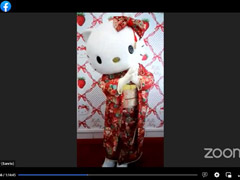 About JICA
Established, by a specific law, as an incorporated administrative institution under the Government of Japan, the Japan International Cooperation Agency (JICA) aims to contribute to the promotion of international cooperation, as a sole Japanese governmental agency in charge of ODA implementation. JICA is the world's largest bilateral donor agency. JICA works as a bridge between Japan and emerging countries, and provides assistance in forms of loan, grant and technical cooperation so that the emerging countries can strengthen their capabilities.
For further information, please contact:
JICA India Office
Shusaku Takada / Aishwarya Mishra
+91 11 49097000
Takada.Shusaku@jica.go.jp
Mishra-Aishwarya@jica.go.jp
Edelman India
Rakhi Aurora
+91 95990 67185
Rakhi.Aurora@edelman.com
Quote from Mr. Sanjay Panda as representative of Indian
"Making handwashing enjoyable, a simple hygiene habit by using Hindi musical video performed by World-famous character Hello Kitty is surely going to motivate people at large in India especially children for emphasizing the importance of proper handwashing habit in their lives. This is an innovative, joyful and impactful effort of JICA India as a part of it's Achhi Aadat Campaign."
Name: Sanjay Panda
Organization: IJ Kakehashi Services Pvt. Ltd.
Designation: Managing Director
Role: Implementation Partner of Achhi Aadat Campaign