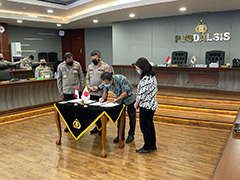 On 23 September 2022, Japan International Cooperation Agency (JICA) signed the Record of Discussions (R/D) with Indonesian National Police (POLRI) for a Technical Cooperation "Project for Promoting Preventive Measures against Crimes", and mutually agreed on the project framework and implementation.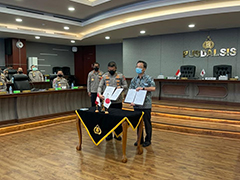 This project aims to establish a model of integrated preventive measures against crimes in Indonesia to fulfill POLRI duties. It is expected that the empirical case methods in Japan, such as pre-emptive policing based on early crime analysis and crime prevention activities in cooperation with public and private sector stakeholders, will serve as references for POLRI to strengthen its overall capacity.
JICA and the National Police Agency of Japan have been cooperating with POLRI in the field of community policing for 20 years from 2001, which enabled POLRI to establish POLMAS, an Indonesian community policing activity model. Police officers working in the local communities have been trained, and POLMAS is now being implemented throughout the country, leading to increased public trust in the police. The new project will be implemented with the basis of community policing that POLRI and JICA had established in the last 20 years, and aims to take advantage of the output of the past cooperation to contribute to crime prevention in practice.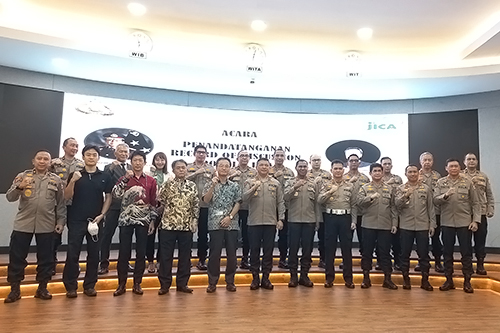 For further information, please contact:
Name : Elyfirma Duma
Email : Elyfirma-Duma@jica.go.jp
Telp. : +6221-5795-2112 (Ext. 412)