Japan International Cooperation Agency (JICA) in collaboration with West Java Provincial Health Office organized the 2-day training of the maintenance of Cold Chain equipment on 26 and 27 October at Bandung, West Java. The training was implemented under the JICA's technical cooperation "The Project for Strengthening Capacity Building Management of Vaccination and Laboratory for COVID-19 and Other Infectious Diseases". The technical project itself has donated 330 unit of Vestfrost Vaccine Icelined refrigerators to Indonesia, in collaboration with UNICEF.
This training is a continuation of a similar training held in September 2022*1. There were total of 13 participants, vaccine and cold chain technicians, from 6 District and Cities in West Kalimantan Province, namely Pontianak, Singkawang, Kubu Raya District, Sangau District, Landak District, and Mempawah District, participated in the training. The training was held at the auditorium of SMK Negeri 1 Cimahi (a vocational school). About 64 students of the Department of Heating, Air Conditioning, and Refrigeration Engineering also attended the Ice-lined refrigerator training sessions.
Similar to the previous training, the 1st day of training starts with lectures and practical "hand-on" sessions for the Vestfrost Vaccine Icelined refrigerators donated by JICA. The 1st day training ends with a Q & A session and active discussions among training participants and lecturers on how they can improve the standard procedures on vaccine handling, challenges of vaccine Cold Chain at vaccination sites, appropriate maintenance of Cold Chain equipment, etc.
During this training, training participants visited the COVID-19 vaccine warehouse under the management of West Java Provincial Health office for facility tour and receiving explanations on Cold room, Ultra Cold Chain and vaccine packing for their management and maintenance.
Training participant appreciated the training with comments such as, "This is the first technical training focusing on management and maintenance of Vaccine Cold Chain", "Although the period of the training was too short to master the technique, this was unique and beneficial".
The training participants are expected to organize the domestic trainings to train their staff and colleagues at their workplaces in order to share what they learned from the training. JICA hopes that the result of this 2 days training will be utilized utmost to strengthen immunization activities in respective areas. JICA appreciates all participants for their active participation!
Related links:
1. Publication and video about previous training held in September 2022.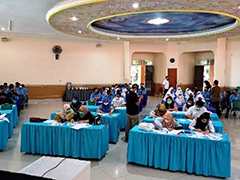 Lecture on the refrigeration system, basic mechanism and features of Ice-lined vaccine refrigerators. 64 students of refrigeration class at High School also attended in the lecture session.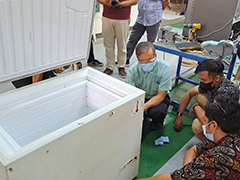 Practices on Vestfrost made Icelined refrigerators (refrigeration mechanism, routine preventive maintenance, etc)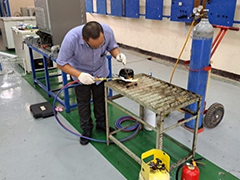 Shortage of the repair tools, such as gauge manifold, welding set, special tools, is a constraint to conduct repair work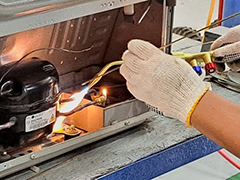 Demonstration on how to change faulty compressor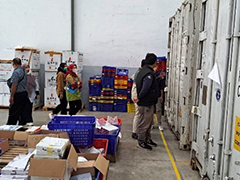 Facility tour of COVID-19 vaccine warehouse at West Java Province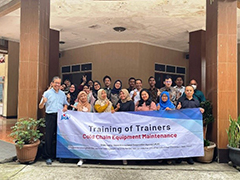 Group photo