On 21 November 2022, Japan International Cooperation Agency (JICA) is resuming the dispatch of volunteers to Indonesia for the first time after 2 years and 8 months.
JICA Volunteer Program started in Indonesia in 1988, and up until recently, about 1,000 volunteers have been dispatched to Indonesian and contributed in transfer technology and human resource development in several areas such as education, health, agriculture, and sports.
However, in spring 2020, as the impact of Covid-19 pandemic, 15 volunteers dispatched to Indonesia at that time had to return to Japan. Upon their return to Japan, many of them have continued their activities remotely using online tools. Moreover, the volunteer assisted in solving domestic issues in the field of such as agriculture and health in Japan.
Recently, JICA Indonesia received request to resume the volunteer program Indonesia, especially from counterparts of the past volunteers. In relation to this request, JICA Indonesia is resuming the volunteer program, by dispatching volunteers in several batch of groups, start with the first group batch in this November. Following this, volunteers will be dispatched by four group batches in a year.
The first group batch will be two volunteers, who will be dispatched to support the tourism in North Sumatra Province and the health sector in South Sulawesi Province. They will be dispatched until 2024.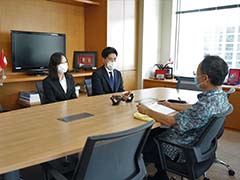 On November 22nd, the following day after arriving in Jakarta, the two met with Yasui Takehiro, Chief Representative of JICA Indonesia Office, and talked about their stand-by period in Japan before departing to Indonesia and their future aspirations. Yasui said, "I want you to build good relationships with the people around you, pay attention to safety and health, and do your best during the two-year assignment."
On the same day, the two volunteers also had a courtesy call visit with Japan Ambassador, Kanasugi Kenji, explained their assignment, and received words of encouragement from the Ambassador.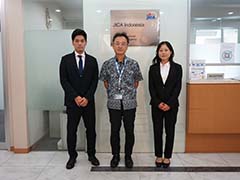 Next, JICA Volunteer Program is scheduled to dispatch more volunteers, for DKI Jakarta and Central Java Province. JICA hopes to continue to provide and increase the contribution of technical cooperation at the grassroots level in Indonesia, namely in the fields of Japanese language education, environmental education, and sports, as well as to promote activities that contribute to friendship between the two countries.