"Meta-facilitation" is a special communication method for solving the problems, which is based on on-site practice experiences. It is a simple approach based on asking others to only provide factual question without asking other's subjective perspective on the issue by using "WHY?". In other words, when asking specific facts, the awareness of the other party will be raised about where the cause of the problem is and subsequently it leads them to solve the problem by themselves.
JICA Iran Office, in coordination with Mr. Toyokazu Nakata, has implemented online Meta Facilitation Workshops for more than 100 agricultural extension experts in Golestan Province to enhance their ability to solve the problems in rural area by using this special communication method.
The need for an effective communication strategy especially during crisis periods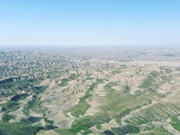 Gorgan Plain aerial view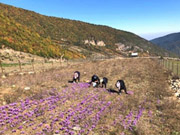 Agriculture as main industry of the region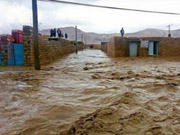 2019 serious flood in Golestan province
Golestan Province in the northeastern of Iran is a thriving agricultural region along the Caspian Sea coast. In addition to Persian ethnic, Turkmen and Azeri ethnic minorities coexist, making it a treasure trove of colorful culture and history. Unfortunately, the area was drastically hit by flood after a period of heavy rain in 2019 , which caused serious damage not only to human lives and homes, but also to agricultural land and crops. Moreover, in 2020, the region was once again devastated because of the corona pandemic.
In such emergencies, the importance of effective communication skills for agricultural extension experts has been reaffirmed in order to grasp the situation of farmers as well as to solve regional problems in the field of agriculture.
The online workshop connecting Iran and Japan is a great success!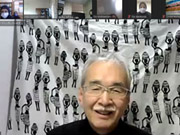 Lecture of the WS Mr.Toyokazu NAKATA, inventor and developer of Meta Facilitation Method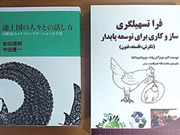 The book names "How to Talk to People in Developing Countries" was translated in Persian language too.
Lecturer Mr. Toyokazu Nakata is the inventor and developer of Meta-Facilitation method. He held a workshop in Iran years before and it had been well received.His book "How to Talk to People in Developing Countries" was translated into Persian Language and has been loved by many readers in Iran.
Since this was the first "Remote Workshop via Online" which is totally different from face to face and on-the-site workshops, there were some concerns before the implementation. However, needless to worry because through Mr.Nakata's leadership and great facilitation skills, a sense of unity among the participants was created during the workshop. Everybody felt as if they were physically present in the workshop, which created excitement among the participants.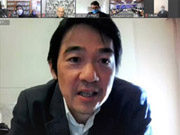 Opening Remarks by Mr.Taro AZUMA, CR of JICA Iran Office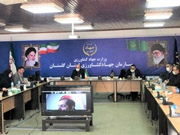 Audience of the Workshop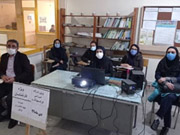 Audience of the Workshop
Even though the Iranians are sociable and communicative, it must have been difficult for them not to ask the other person's opinion or insights and only ask specific facts or they may even find it difficult to avoid giving any advice in order to be more proactive in finding solutions. Even if you understand the method in your mind, in practice, it will require skills, which can only be obtained after many hours of training.
Nevertheless, the workshop participants were really serious about mastering it because they already know it is a very useful communication tool that can be used not only for dialogues with farmers, but also for daily life at home and at work.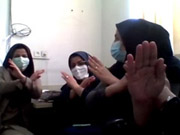 Active participation of the workshop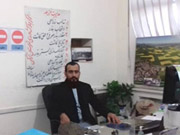 placing the poster of "Fact Question" for awareness rising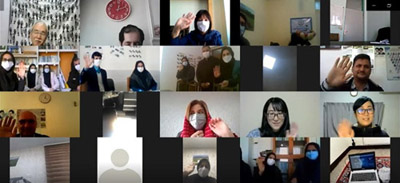 Active participation of the workshop
Constant practice is the key to sustainable outcome
The great feedback has been given by the workshop participants every time. But above all, the best news are the real reports such as "I am practicing what I learned in the workshop." "I noticed that when I talked with my family I am using this method." "At my workplace, we decided to go to the field once a week to practice talking with farmers." and so on. This proves that the outcome of the workshop has been put to good use in the field and hopefully it keeps on developing.
JICA Iran Office wishes that the many extension experts could acquire the effective meta-facilitation method as much as possible and provide a path to solving problems at local agricultural sites.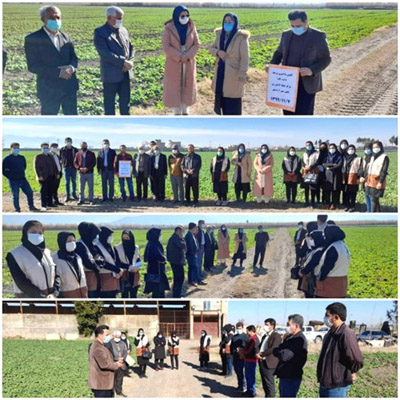 The agriculture extension experts who implementing the practice of Meta Facilitation in the agricultural field after taking the lessons