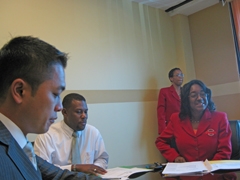 Mr. Ronald Jackson, Director General of ODPEM, (centre) discusses JICA's support for GIS Training at ODPEM with Mr. Taku Yoshida, JICA's Project Identification Expert of the CARICOM Secretariat (left), Ms. Michelle Edwards, Senior Director of the Mitigation, Planning & Research Department (right) and Mrs. Pauline Brown, Senior Director of Projects (standing).
According to Mr. Ronald Jackson, Director General of the Office of Disaster Preparedness and Emergency in Jamaica, ODPEM's cooperation with JICA is based on the strengths of the Japanese experience. Several lessons are to be learnt from the Japanese Experience. ODPEM has sought support in the areas of Seismic Risk, Disaster Risk Management and Capacity Building. ODPEM has requested the services of Volunteers from JICA as Disaster Risk Management Specialist, Structural Engineer, and GIS Analyst.
"This intervention by JICA at ODPEM, Mr. Jackson continued, is timely, considering that this work is very important for support during disasters such as the upcoming hurricane season commencing June, 2011."
Several objectives are being targeted simultaneously. ODPEM through its own initiative may request other JICA schemes such as Training in Japan, which ODPEM has been utilizing over the years. One could also further explore the Dispatch of Volunteer programme in order to support this GIS project becoming a programme, depending on the policy directive of the Government of Jamaica for its long-term development objectives.
1. Objective of the GIS Project:
This project's objective is enhance the GIS/GPS function managed by the Mitigation Planning & Research Department, (MPRD) of the Office of Disaster Preparedness and Emergency Management (ODPEM) in Jamaica. To achieve this objective, JICA selected GeoTech Vision Enterprises Limited as the consulting firm. Its services were required to evaluate the requirements for GIS technology and to define potential applications through the provision of up-dated software and technical training of the staff involved at the MPRD and also in the Parish Councils throughout the island.
2. Imput from JICA:
The consultancy firm of GeoTechVision Enterprises Limited was hired. At the initial meeting a roadmap for the cooperation and a draft workplan was presented. A User Needs Assessment was conducted by examining ODPEM's programmes, which rely on geographic information and a review of existing GIS operations and applications was done, revealing gaps and opportunities for improved use of GIS technology.
Cooperation Activities : The following were implemented:
JICA procured the appropriate software in order to support the GIS project and the GIS Unit was adapted to ODPEM's specific needs in research e.g. Vulnerability Assessment and Hazard Mapping, Geospatial Technologies, Preparedness, e.g. National Shelter Database,
3. Outcome: Training & Awareness for
Introduction of GIS Applications to 27 ODPEM & Parish Disaster Coordinators
Introduction to GPS - Comprehensive training in performing a GPS mapping project from beginning to end .
Creation of a GIS Asset catalogue that helps to easily capture information data resources at ODPEM.
Shelter Application - Shelter Database for the entire island was worked on.
Constant maintenance of the Hazard Database which was created.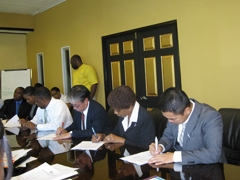 Signing Ceremony for GIS Cooperation at ODPEM