JICA through its "Smile for All in the World" programme[1] facilitated the donation of twenty-seven (27) land hurdles to the Jamaica Athletics Administrative Association (JAAA), by the Tottori Athletics Association (TAA), as part of an ongoing Friendship Exchange Agreement[2] between the two athletics organizations. Tottori is also the host town of Jamaican athletes for Tokyo 2020 Olympic and Paralympic games.
The donation was made possible by efforts of Japan Overseas Cooperation Volunteer, Mr. KAJITANI Akio who was dispatched to the Westmoreland Municipal Corporation[3]. Upon realizing the need for the items, Mr. Kajitani applied to JICA Smile for All in the World programme and the TAA responded favorably to the request.
In the words of KAJITANI Akio, "Although we cannot visit Jamaica because of COVID-19… I hope that we could welcome the Jamaican national team in safety next year 2021 and would like to continue to cherish the wonderful friendship with Jamaica. Bless you all."
Notes
[1] The "Smile for All in the World" is a programme that JICA recruits and collects the items which are requested by people in countries/regions where JICA volunteers are dispatched, based on applications from JICA volunteers and the items are transported to the countries/regions by JICA.
[2] The Tottori Athletics Association and the Jamaica Athletics Administrative Association signed the Friendship Exchange Agreement in May 2016.
[3] Tottori Prefecture and Westmoreland Prefecture signed a Sister City Agreement in March 2016.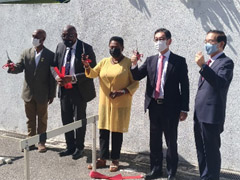 (Left to right) President, JAAA, Mr. Garth Gayle; 1st Vice President, JAAA, Mr. Ian Forbes; Minister, Culture, Gender, Entertainment and Sport, Hon. Olivia Grange; Ambassador of Japan to Jamaica, H.E. Mr. FUJIWARA Masaya; Resident Representative, JICA Jamaica Office, Mr. TAKANO Takeshi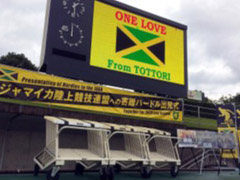 Land hurdles on display in Tottori before being shipped to Jamaica