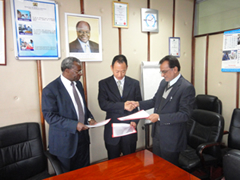 Signing and Exchange of Record of Discussion
As a follow up to the 4th Tokyo International Conference on African Development (TICAD IV) and the Preparatory Survey on Human Resources for Health Development in Africa, a regional programme was formulated and launched in 2011. The programme is entitled "Partnership for Health Systems Strengthening in Africa." It is a five-year programme estimated to cost USD 2.5 million and will run from September 2011 to March 2016.
The programme will be implemented by the Kenya's Ministry of Public Health and Sanitation in collaboration with AMREF which hosts the African Health Leadership and Management Network (AHLMN). AHLMN is a network of institutions engaged in capacity building for health systems strengthening (HSS) in Africa. JICA will provide technical and financial support for this programme.
The purpose of the Programme is to create a critical mass of professionals and their networks with state-of-the-art knowledge on issues around HSS in Africa. These professionals can promote sustainable human resources development for HSS in their respective countries and settings, through coordinated training programmes in partnership with regional networks of higher training institutions and other stakeholders.
Training will cover critical areas of health systems strengthening, including the six health systems building blocks of governance, leadership and management; human resources for health; health financing; information systems; pharmaceuticals and medical supplies; and service delivery systems. The programme will initially target 14 AHLMN member countries but will gradually be rolled out to cover more countries in Eastern, Central, Western and Southern Africa.