The Japanese Government Grant Aid is an important component of Official Development Assistance (ODA) implemented through JICA. For the Eastern and Central African region, on-going grant aid projects are monitored by the grant aid section of the Regional Strategy Unit for Africa (RSA). These projects are formulated in collaboration with recipient governments' line Ministries/Agencies taking into cognizance individual country development strategies and plans. Other overarching criteria considered in the process of developing the project include the universally agreed Millennium Development Goals (MDGs) as well as TICAD IV's Yokohama Action Plan. The nature of projects implemented in the region fall in different categories including roads, bridges, urban and rural water supply, building works on hospitals and equipment supply.
Transport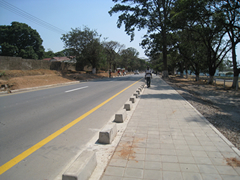 Project for Improvement of Zambia's Ndola Kitwe City Roads Footpath
In the road sector, JICA has been funding several urban and trunk roads projects in the region through the grant aid scheme. The projects are geared towards decongestion of cities, enhancing commodity, passenger and international logistics. Among the cities that have had road improvement projects in the region are Blantyre in Malawi, Kinshasa in the Democratic Republic of Congo (DRC), Nairobi in Kenya, Bujumbura in Burundi, Ndola and Kitwe in Zambia, Dar es Salaam in Tanzania and Mtwara region in a Southern Tanzania. Some of the road projects such as the Masasi-Mangaka Road form strategic links in the region as it is part of the Mtwara Corridor linking Tanzania to Mozambique.
Water
Project for Rehabilitation of Ngaliema Water Treatment Plant in Kinshasa, DRC
Rural water supply projects involving drilling of boreholes, installation of pumps and construction of storage tanks and public tap-stands have been undertaken in Tigray and Oromia regions in Ethiopia and Mwanza and Mara regions in Tanzania. All the on-going projects in these regions target a total of 326 boreholes to be drilled and developed together with water supply facilities including reservoirs, elevated tanks, transmission and distribution pipelines.
In Rwanda, a project to improve rural water supply from surface sources is currently under construction. In addition, major water supply projects are being undertaken in the Democratic Republic of Congo (DRC) and Kenya to augment water supply in Kinshasa and Embu town respectively.
Building and Equipment Supply
Slab Concrete Casting in the Project for rehabilitation of Hospitals in Uganda
To enhance health in the region, JICA has continued to support development of health facilities in existing hospitals in the region. In Uganda a project for rehabilitation of Hospitals and supply of medical equipment in the central Region is currently underway, targeting Masaka and Mubende Hospitals. The project entails construction of outpatient facilities, laboratory and theatre and supply of medical equipment.