April, 2018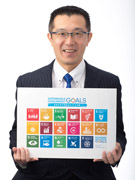 The month of April marks the beginning of the new year in schools and companies in Japan. JICA Kenya office begun the new fiscal year 2018, too. But this notwithstanding, I feel the mood of a "Fresh start" here in Kenya after long election period in 2017.
We in Kenya experienced two presidential elections in 2017. It was unfortunate to witness ethnic antagonism and divisive political competition.
The elections have come to pass and, JICA as an old friend and partner with Kenya since its independence in 1963, wishes to congratulate the two leaders, H.E. President Uhuru Kenyatta and H.E. Raila Odinga, for coming to a common understanding and launching the joint statement "Building Bridges to a New Kenyan Nation" on 9th March 2018.
President Kenyatta has in his new administration set key pillars to spur socio-economic development for Kenya during the next five years – that is "the Big Four" consisting of;
Food and Nutrition Security,
Affordable Housing,
Enhancing Manufacturing, and
Universal Health Coverage (UHC),
Even with the recent announcement of the Big Four, JICA has implemented various projects to support the Government of Kenya and Kenyan people over a long period of time in line with the Big Four priorities, for example, increasing productivity in rice production through RiceMAPP project, UHC Budget support by ODA loan together with assignment of an expert to share the Japanese experiences in UHC.
In addition, JICA is promoting comprehensive development cooperation under three pillars of the Nairobi Declaration, the outcome document of TICAD VI held in Nairobi in August 2016. The Big Four agenda remains relevant and align to the pillars of Nairobi Declaration, too.
JICA will therefore accelerate such development cooperation to respond to the needs in Kenya and the region at large.
During the election period, we strongly recalled that Kenya is a country diverse in many ways be it ethnicity, languages, and religions etc. Devolution in this country has produced a lot of good results so far. Nevertheless, Devolution maybe misinterpreted to be the cause of exclusivity and marginalization within Counties.
JICA however, believes in the importance of Devolution and continues to support capacity development at the County level for delivering services directly to the people. Besides, we at JICA will be happy to encourage the Kenyan people's in their efforts to build a united, harmonious and stable nation, where no individual feels left behind.
To conclude my message, let me take this opportunity to thank all the stakeholders and partners for your continuous collaboration with JICA. As our Vision "Leading the world with trust" expresses, I hope that JICA's work will lead to forging bonds of trust across the world, where people can aspire for a better future and explore their diverse potentials.
SANO Keiko
Chief Representative
JICA Kenya Office