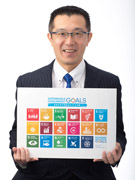 Hamjambo! Habari gani?
Thank you very much for your visit to our WEB site!
It is my great pleasure to share with you JICA Kenya Office's activities and achievements in Kenya, Eritrea, Seychelles and Somalia.
JICA Kenya Office seeks to attain the development goals in line with the Nairobi Declaration of TICAD VI in 2016, Yokohama Declaration of TICAD7 in 2019, and the development plans and strategies of the respective Governments. I truly believe that the dynamic nature of JICA's cooperation activities have contributed to transforming the societies and impacted positively on people's lives and livelihood.
We however recognize the fragility of the world surrounding us caused by threats of unsustainable economies, climate change, terrorism, and, more recently, COVID-19. JICA Kenya Office remains committed to working together with all stakeholders for a better and brighter future.
In this regard, JICA will continue to promote development cooperation to meet the needs of Africa. We will to this end, strengthen cooperation with development partners, private companies, NGOs, Universities and Research Institutes, and explore cooperation that is more effective and strategic by incorporating new ideas and innovative technologies into JICA's experience so far.
Asante sana na Karibuni!
IWAMA Hajime
Chief Representative, JICA Kenya
March 2021