Nairobi, Kenya
The JICA President Award is presented annually on commemorating the International Cooperation Day in Japan, marked on 6th October every year. Eminent individuals and organizations are recognized and awarded for their significant contributions to human resource development and social and economic development in developing countries through international cooperation activities. This year, the Award is in its 16th year and was presented to 48 individuals and organizations in Japan and overseas. KEMRI is one out of six overseas awardee organizations.
On 19 November 2020, Mr. Komori Katsutoshi, Chief Representative of JICA Kenya Office presented the award to KEMRI on behalf of Dr. Shinichi Kitaoka, President of JICA. The ceremony was held at the KEMRI HQ in Nairobi and attended by Dr. Naphtali Agata, the Chair of KEMRI Board of Management, Prof. Yeri Kombe, Director General and members of the KEMRI management team.
Delivering his welcome remarks, Prof. Kombe acknowledged the support extended to KEMRI by JICA through grant aid for facilities construction, equipment supply and technical cooperation since its establishment. He observed that the award given to KEMRI was as a result of its achievements anchored in the long partnership and cooperation with JICA. Dr. Agata encouraged the KEMRI management team and scientists to appreciate the award as an opportunity to further improve and navigate through the many challenges facing the institute. He challenged them to take time to recognize the achievements, challenges and gaps and seek pathways to strengthen further the cooperation with JICA. "Our desire is to continue growing and we appreciate indication by JICA of the continued partnership and support", added Dr. Agata.
On his part, Mr. Komori explained and background of the award noting that KEMRI was nominated in recognition of its regional contributions through conducting research and human resource development in the field of human health. He highlighted aspects of the leading role that KEMRI has played in response to the COVID-19 pandemic and noted with gratitude that the assets nurtured through the past cooperation between KEMRI and JICA have been utilized in the ongoing response to the pandemic. Mr. Komori formally presented the award to the Chair of the KEMRI Board and Director General at 1550hr EAT.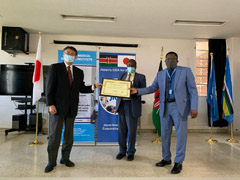 Mr. Komori presents the JICA President Award to KEMRI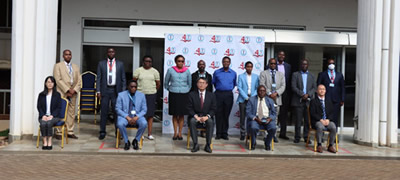 Group photo of participants at the presentation ceremony