JICA joined forestry sector stakeholders led by the Ministry of Environment and Forestry's Cabinet Secretary, Mr. Keriako Tobiko, EGH, SC at this year's International Day of Forests celebrations held at the Corner Baridi side of Ngong Hills on 21st March, 2022.
Over the past 37 years, JICA has continuously supported "Forests and sustainable production and consumption" which is the theme of this year's celebrations, by investing a lot in supporting forestry sector institutions including strongly collaborating with the Kenya Forestry Research Institute (KEFRI) to breed drought tolerant indigenous tree species. JICA has also worked closely with Kenya Forest Service (KFS) to thoroughly train farmers in arid and semi-arid lands (ASALs) in social forestry practices through forestry Farmer Field Schools (FFS) to not only to increase tree cover in the country, but also improve their lives and livelihoods through utilization and sale of both wood and non-wood forestry products.
During the cerebrations, Mr. Katsuro SAITO, the Chief Advisor of the "Project for strengthening forestry sector development and community resilience to climate change through sustainable forest management and landscape restoration" which commenced in February 2022, took part in ceremonial tree planting with the Cabinet Secretary.
Expressing his expectations for the newly started project, Mr. Saito said, "The project aims to achieve multiple objectives, namely, strengthening policy-planning processes, promoting commercial forestry, upgrading breeding of drought tolerant tree species and enhancing Kenya's capacity for regional contribution to Sub-Saharan countries. In order to achieve these purposes, we call for the involvement of a wide range of stakeholders including National and County governments, NGOs/CBOs, private companies, academia and individuals. I'm looking forward to working together with everyone who is committed to promoting forestry sector development in Kenya."
Mr. Saito also planted trees with the Chief Conservator of Forests, KFS Mr. Julius Kamau and KEFRI's Director Dr. Joshua Cheboiwo. The celebrations were supposed to enhance publicity for the national campaign to achieve 10% tree cover.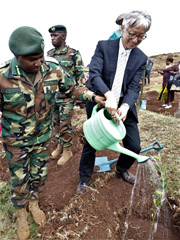 Tree planting with KFS Chief Conservator of Forests, Mr. Julius Kamau, E.B.S.

Tree planting with KEFRI Director, Dr. Joshua Cheboiwo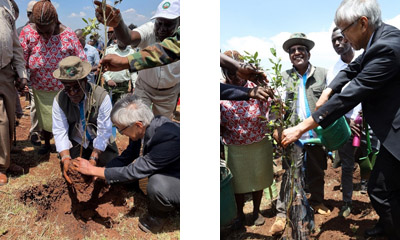 Tree planting with Environment and Forestry Cabinet Secretary, Mr. Keriako Tobiko, EGH, SC