Tuesday 26th July 2022 marked another milestone for Kenya's energy sector as His Excellency Uhuru Kenyatta President of the Republic of Kenya commissioned two Geothermal Power Plants on the same day in Olkaria namely; the 165MW Olkaria V Units 1 & 2 and 83.3MW Olkaria I Additional Unit (AU) 6. These Power Plants were financed by Japanese Government through Japan International Cooperation Agency (JICA). The two Power Plants are part of the pledge by Government of Japan to His Excellency President Uhuru Kenyatta towards the realization of Kenya's Vision 2030 by enhancing the capacity and stability of affordable power supply in the country. Both Power Plants were financed through concessional loans signed between the Government Japan and the Government of Kenya on 9th March 2016 and 31st March 2010 respectively and implemented by JICA at special concessional terms applied to projects that support mitigation effort against climate change.
Today, Kenya's electricity generation capacity is approximately 2,984MW with about 296MW financed through the Japan's concessional ODA loans. So far, JICA funded projects includes Kipevu I Diesel Power Plant (75 MW), Sondu Miriu Hydropower Plant (60MW), Sangoro Power Plant (21MW), and Olkaria I Units 4 & 5 Power Plant (140MW). Commissioning of Olkaria V (165MW) and Olkaria I A.U. 6 (83.3MW) will therefore see JICA's support contributing an additional 248.3MW to the grid while pushing the overall contribution to Kenya's geothermal power generation 388.3 , that is, about 45% of the total installed capacity of geothermal power. Additionally, JICA has committed to finance rehabilitation of Olkaria I Units 1, 2 and 3 which when complete, will add an additional 15MW to its current 45MW capacity.
In addition, to power generation, Government of Japan and JICA support Kenya's energy sector comprehensively by enhancing transmission and distribution capacity of the sector as well as academic research support (R&D). Currently, JICA is financing, through ODA loan, the "Olkaria-Lessos-Kisumu Transmission Lines Project" by KETRACO and the Project of "Improvement of power distribution systems in and around Nakuru and Mombasa City" by KPLC through grant. Last but not least, JICA also provides technical assistances to GDC, KenGen, KETRACO, JKUAT and University of Nairobi, in order to strengthen Kenya's energy sector capacity in human resource, geothermal development and other renewable energies.
JICA's continuous support in Kenya's energy sector is a reflection of commitment of the Government of Japan in providing optimal solutions that enrich livelihoods of Kenyan people through clean, affordable and sustainable energy. Towards the 60th year of Japan's consistent ODA since Kenya's independence in 1963 and as key partners of the Eighth Tokyo International Conference on African Development (TICAD 8) to be hosted in Tunisia on 27th to 28th August 2022, the People of Japan are proud and committed to support Kenya's strong path to Vision 2030.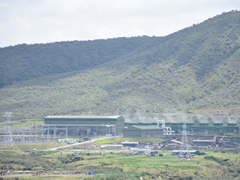 Olkaria V power Plant
E/A: KenGen
Financed by: JICA
Main Equipment supplied by Mitsubishi Hitachi Power Systems
Contractor: Sinopec International, Mitsubishi Corporation, Sieyuan Electric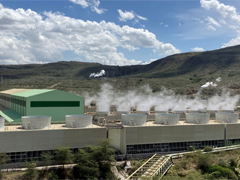 Olkaria I A.U 6
E/A: KenGen
Financed by: JICA and EIB
Main Equipment supplied by Fuji Electric
Contractors: H Young & Co (EA), Marubeni Corporation