On 22nd and 26th September 2022, JICA Kenya office conducted the JICA Chair Program in collaboration with two Universities, Strathmore University and the University of Nairobi respectively. The JICA Chair Program is an initiative pioneered by former JICA President KITAOKA Shinichi to promote and share development experiences with partner countries such as Kenya learning from the initiatives of Japan over time.
In attendance to the JICA seminars was the Ambassador of Japan to Kenya, H.E Ken OKANIWA, the Chief Representative of JICA Kenya Office, Mr. Hajime IWAMA among other guests. The guest speaker for the JICA Chair seminars was Prof. Motoki TAKAHASHI from Kyoto University and the seminar was themed on Transformation of African Economies with a focus on industrialization.
This lecture is timely to the new Administration, which is highly expected to accelerate economic transformation for the country. Manufacturing is one of the key sectors that can be tapped into the economic transformation of Kenya and such a robust seminar adds onto the momentum in regards to the ongoing efforts by the Government, Development Partners and Institutions of Higher Education.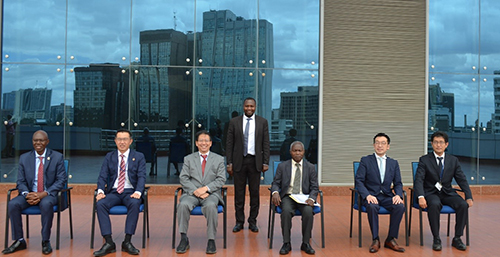 Chief Representative, JICA Kenya Office, Mr. Hajime IWAMA (2nd from left) accompanies Prof. Motoki TAKAHASHI (3rd from left) for a group picture at the University of Nairobi.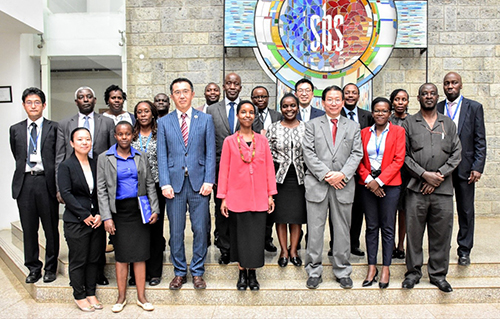 Guest Participants at Strathmore University
Prof. Motoki TAKAHASHI from Kyoto University delivering his lecture at Strathmore University