JICA held seminars on "Japanese hospitality "Omotenashi" for the tourism sector of KR, which also threw some light on tourism business during the COVID-19 pandemic, in cooperation with the Department of Tourism under the MoCIT KR and JICA alumni, Mr. Azamat Zhunusov.
The seminars took palce in Cholpon-Ata on 11th and 12th November and in Karakol on 17th and 18th November for owners and staff of local hotels and guest houses, representatives of local tourism associations and local governments.
The lecturers of the seminar - local experts in tourism and experts from the Kyrgyz - Japan Center for Human Resource Development - presented the concept and basics of Japanese hospitality - "Omotenashi" and Japanese experience in tourism development, and compared the characteristics of Japanese, Western and Kyrgyz hospitality. Participants also learned about Japan's efforts in tourism in response to the COVID-19 pandemic and gained basic knowledge of managing financial risks during a pandemic.
As a result of the seminar, the participants worked out action plans for the development of tourism at the local level. Under the above project, the implementation of these action plans will be monitored and additional support by experts will be provided as needed.
The participants noted the need for branding traditional Kyrgyz hospitality and creating a business model out of it based on the experience of Japan.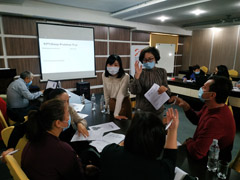 Group work on service quality enhancement
Lecture on features of kyrgyz hospitality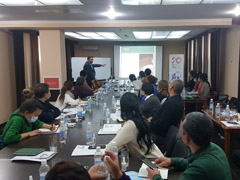 Lecture on traditional japanese hotels Karakol