Activities in Liberia
Master Plan Study on Urban Facilities Rehabilitation and Improvement in Monrovia
Background and Objective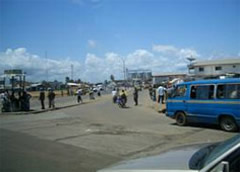 Liberia's 14-year civil war damaged much of its infrastructure, especially in the capital of Monrovia, and those facilities that escaped severe damage are deteriorating due to lack of maintenance. Although aid agencies have provided emergency and recovery support since the end of the war, Monrovia's city does not function adequately in the face of the extensive war damage and the rapid postwar population growth. The objective of the Master Plan Study on Urban Rehabilitation and Improvement in Monrovia is to design a master plan for short- and mid-term recovery efforts that lays out a vision and strategy for a full recovery of the city functions.
Project Summary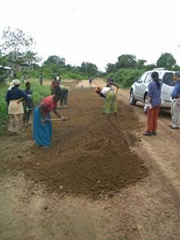 Under the project, a master plan for urban facility rehabilitation and improvement will be formulated for Greater Monrovia as well as an implementation plan for roads, waterworks, sewers and rainwater drainage. The study will also facilitate technology transfers related to development planning by executing agencies.
A Vision for Liberia's Future
A dynamic and comprehensive master plan will be devised for rehabilitation work by 2014 and reconstruction work by 2019 in Greater Monrovia. Urban issues will not be studied separately, but within a common socioeconomic context, critical areas and pertinent issues are identified according to their severity, urgency and need for action. It is hoped this approach will provide an integrated master plan with a clear focus on the issues.