Name: Miku Yokota
Batch: FY2018-3 (23 Jan. 2019-22 Jan. 2021)
Technical Field: Primary School Education
Host Organization: Balaka Teachers Development Centre
Hometown in Japan: Miki city, Hyogo
A Piece of Memory "That Day When I Felt Comfortable"
"Sakana! Sakana! Namazu!" said an elder man, who suddenly appeared at the office one hot afternoon.
I lived in Balaka province in southern Malawi. That day was a semester holiday, and I, who usually busily visit elementary schools, took a break at the office and spent the time relaxing and chatting with my colleagues. Various people come to visit the office-parents, teachers, local residents, and those who sells things. Mothers who sell boiled corn and bananas on wagons often visit the office, too.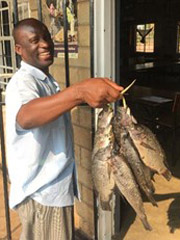 The man who said the familiar words "Sakana!" and "Namazu!" was also a person who came to sell fish. When I asked him why he knew such Japanese words, he happily explained to me that there once was a Japanese person who lived in this area long time ago, and that person often bought fish and taught him Japanese. From this experience, he probably thinks that Japanese people like fish, and enthusiastically recommended fish. There were many fresh good-sized fish at a place a little away from the lake where the fish are landed. I felt sorry for the man since I was not a fan of fish but enjoyed the conversation with him. My colleague's boss, who stood next to me, enthusiastically chose and bought some fish. He, who was listening to our conversation, seemed to have fun and repeated the word "sakana!" and looked very happy buying a lot of good-sized fish (see the photo). It was a comfortable time, thanks to a member who used to work in this area.
What surprised me when living in this area was that I heard local residents mention names of Japanese people and the memories they shared with them more often than I expected. I was also often surprised by people who greeted me, saying "Konnichiwa," and often heard teachers saying, "I learned math from a Japanese teacher when I was a student." Every time, I felt the history of the volunteers, and I learned that many Japanese people live in the hearts of the people who live in this place.
When I heard that this year will be marking the 50th anniversary of the dispatch of Malawi members, I am proud that many Japanese have been active in Malawi for such a long time, and I am very honored to have been one of them. I sincerely hope that many Japanese will continue to communicate and connect with the people of Malawi.