Name: Fuyumi Fukamizu
Batch: FY2018-2(15 Oct. 2018〜14 Oct. 2020)
Technical Field: Primary School Education
Host Organization: Kasungu Boma Primary School
Hometown in Japan: Kamakura City, Kanagawa
A Piece of Memory "How I Became a Malawi JOCV Member"
I joined the JOCV right after graduating from college. Malawi, the country I was assigned to, was a place where I had a special feeling because I had visited this country twice when I was a student.
Seisen University, from where I graduated, has a class called Field Work. In this class, students visit places either in Japan or overseas with research themes and use their five senses to explore independently. One of the destinations was Malawi. When I was a sophomore, I participated in the Field Work in Malawi, and experienced a developing country for the first time in my life. At that time, I thought I knew about developing countries through television and books, but I was shocked when I saw schools without materials, such as desks, chairs, and textbooks, with my own eyes, and started to wonder whether there was anything I could do. During the time I did a homestay at a rural area in the north, using water from the lake for living, spending the night with a flashlight under the starry sky, and the smiles of the people in Malawi singing and dancing even if they had nothing with them are deeply engraved in my heart.
The following year, I visited Malawi on my own to learn more about Malawi. A Malawi JOCV member at that time showed me around. I learned that members of many occupations are working with various motives and enthusiasm. Until then, I felt that the corps members were way above me, but as I got to know many members, I felt closer to them and wanted to take on the challenge.
I was about to graduate when I received an acceptance notification. I was accepted to go to Malawi, where I had hoped to go, and was delighted with the teacher who was in charge of the Field Work and was also an alumni of Malawi JOCV. I was pleased to hear that I was the first one from Malawi Field Work to be part of Malawi JOCV that has been going on for over 10 years.
About a year after I was assigned, juniors of my university came to visit Kasungu as participants of the Malawi Field Work that I once participated in. It made me feel special that I became the one to accept the students. I hope that my juniors will one day become a member of Malawi JOCV.
Next will be Yusuke Maeda (Pharmacist) from batch FY2018-1.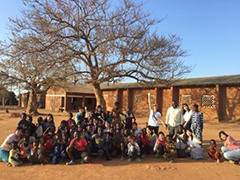 Juniors visiting Malawi through Field Work