Name: Yusuke Maeda
Batch: FY2018-1(9 July 2018-8 July 2020)
Technical Field: Pharmacist
Host Organization: Kamuzu Central Hospital
Hometown in Japan: Nerima City, Tokyo
A Piece of Memory "Connection of Malawi and Japan"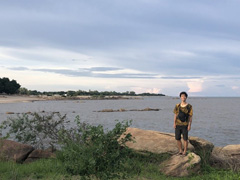 "Hey, watch out, there's a crocodile!"
This happened at a lake in Nkhotakota, where I visited for a vacation while I was serving in Lilongwe. As I was feeling a little surprised by the fact that a crocodile appeared in a place where people can easily take a walk, which was not even a safari, the local residents who warned me said, "Crocodiles have appeared, but the rangers will soon arrive, so it's okay."
When I was looking at the lake, taking a distance from the shore, I saw a man who was obviously a ranger. He looked around the spot where the crocodile appeared and the surrounding area with his good eyesight to confirm safety and began to talk with the witnesses. When he came to me, he seemed to not care about the crocodile anymore and asked, "Are you Japanese?" He told me about a Japanese person who taught him science at a secondary school over 30 years ago. "Japanese people may not be good at English, but the science class was amazing." His words and expression on his face made me happy and felt the long history of JICA's JOCV in Malawi.
At Kamuzu Central Hospital, where I was assigned, I was working to improve the quality of medical care, but it was quite frustrating, and I was often overwhelmed by every move that my colleagues made. Even in such a place, I met a person who used to work with people from Japan and said "•• is a friend of mine!" and "•• is my brother!" One time, apart from improving (KAIZEN) the quality of medical care and implementing the 5S, I felt the influence of international exchange, and wanted to cherish the connections between Malawi and Japan that have been passed down.
Next will be Keisuke Ueda (Assistance and Education for Persons with Disabilities) from batch FY2017-3.